Sony Mobile gets more involved in charity work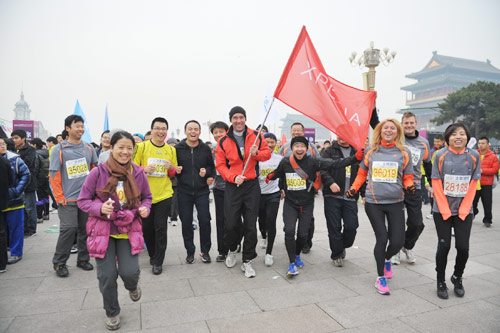 Provided to China Daily
Sony Mobile is more involved in charity work in China than ever, spending a large amount of time and money to support the country's young generation, said Magnus Ahlqvist, president of Sony Mobile Greater China.
Ahlqvist attended the Beijing marathon last Sunday, in support of the company's charity project Run for Hope. Joining him were 99 workers from the company. According to Ahlqvist, after the marathon, the company will donate money to the China Youth Development Foundation, to help improve the country's school facilities in less-favored areas.
"I go to the gym and I run frequently. It helps me to clear my mind and focus on the work. For me, it's a healthy lifestyle," said Ahlqvist.
Sony Mobile was one of the first companies to respond to the Sichuan earthquake in 2008.
"We donated a number of phones, for example, because communication was the main issue after such a terrible event, and also in the recovery effort," Ahlqvist said.
Also around that time, the company decided to support the Hope School project in the rural areas of China, according to the president.
The Run for Hope project started in the Beijing marathon last year. Sony Mobile and the China Youth Development Foundation helped 10 pupils from poor areas in Qinghai, Shaanxi and Sichuan to come to Beijing to take part in the international marathon.
The company donated 1 million yuan ($159,000) to the foundation through the project. The project helped to build a primary school and provide sports facilities to more than 10 schools in Hebei province.
"Education gives opportunities for the future, for progress at the individual level, and also for society," Ahlqvist said.
"We've been doing quite a number of things going a long way back. It's not about doing many things, but rather being committed to do them, and trying to do them very well," Ahlqvist added.