Running into danger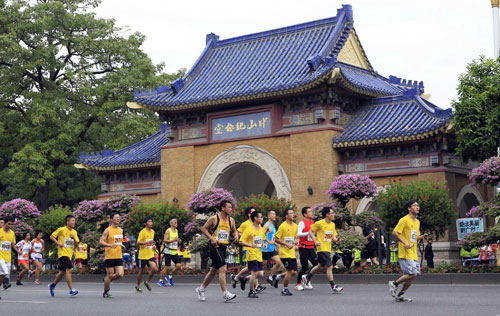 The first Guangzhou International Marathon attracted about 20,000 professional and amateur runners. Zou Zhongpin / China Daily
Few realize the risks of taking on a marathon. Liu Zhihua and Tang Yue report.
Thirty thousand people had signed up for the Beijing International Marathon, which will take place on Sunday, by Nov 12 — the fourth day of registration.
The public raced to fill all openings for the mini (4-kilometer), half (21-km) and full (42-km) races.
But many amateurs don't know the risks of taking on a marathon — the potential of injury and even death — if they don't prepare and overexert themselves.
On Nov 18, 21-year-old college student Chen Jie passed out at the finish line of the Guangzhou International Marathon in Guangdong province's capital and later died in the hospital from a heart attack and consequential organ failures.
The Guangzhou marathon's official statistics show 1,517 racers reported discomforts, sprains, dizziness and cramps. Two men, including Chen, passed out and were sent to the hospital.
"Many people don't realize a marathon is nothing like casual jogging," says Liao Shaofang, an emergency room doctor with Tsinghua University No 1 Huaxin Hospital.
Liao used to be a Tier-2 national track-and-field athlete.
"It's a skill-based endurance race and requires an outstanding physique," he explains.