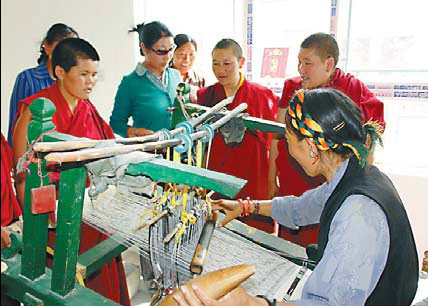 Tibetan women attend a training program to improve their weaving skills at Bainang county, Xigaze prefecture, Tibet. Provided to China Daily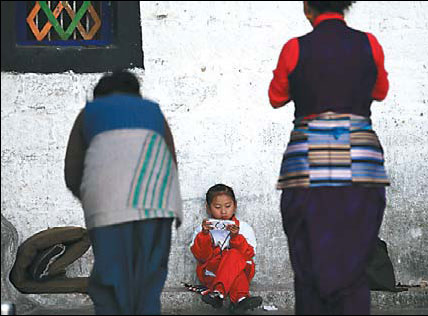 A girl plays a game on her PlayStation Portable console while her family members are praying outside the Jokhang Temple, Lhasa, on Sept 28. Cui Meng / China Daily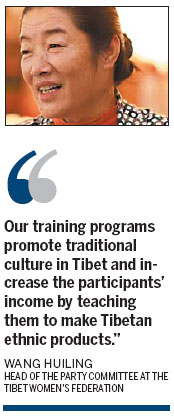 Women in the Tibet autonomous region enjoy rising social status and are stepping beyond their traditional roles, according to an official at the Tibet Women's Federation.
Wang Huiling, head of the Party committee at the women's federation, said the job market has kept expanding for women, many of them becoming researchers, judges, lawyers, teachers, doctors, entrepreneurs and mountain climbers.
Tibetan women are increasingly stepping out of their traditional role as domestic caretakers, to receive education and learn skills to make a living, according to Wang.
Previously in herding regions, women would typically carry their babies on their backs as they trekked through the mountains with their flocks, in addition to performing household chores, Wang said.
The federation offers women a variety of training programs, including learning to make leather and hand-woven wool products, silver ornaments and stone carvings, which attracts mostly men.
All trainees receive free housing, an allowance for transportation and food, and compensation for lost work.
"A decade ago, few people came to our training programs, but nowadays we have more applicants than we can handle," Wang said.
Driving lessons have also been offered to women for years. Hundreds apply each time, though the federation can only take around 80 students, she said.
After three months of lessons, the participants are eager to buy vehicles with interest-free loans to make a living as taxi drivers, she added.
Advanced programs in silver jewelry and ornaments and stone carving recruit only gifted, experienced craftsmen. The trainees visit places that preserve cultural heritage, such as Buddhist temples. They have also gone abroad, to Mexico and Brazil for example, to learn advanced techniques there.
Hand-woven scarves sell for 4,680 yuan ($747) apiece in Shanghai and Beijing. And stone carvings with a silver chain cost 1,200 yuan a set.
"Our training programs promote traditional culture in Tibet and increase the participants' income by teaching them to make Tibetan ethnic products," Wang said.
More than 40 counties in the autonomous region have similar training programs. The federation does extensive outreach to carry out poverty-relief programs with a well-established organizational structure at the grassroots level.
Zhang Lirong, deputy chairwoman of the Women's Federation in Tibet, said it was encouraging to see more Tibetan women receive higher education and gain greater representation in public office.
"They were educated in major cities and brought back fresh ideas and experiences. I hope more women will follow their lead and seek opportunities outside the prairies," Zhang said.