Out to rebrand Africa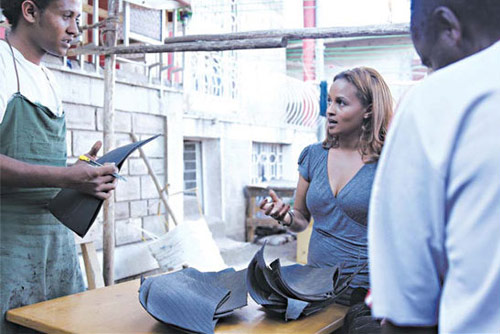 SoleRebels, Bethlehem Tilahun's shoe company founded in Ethiopia, grossed $2 million this past year. Michel Temteme for the International Herald Tribune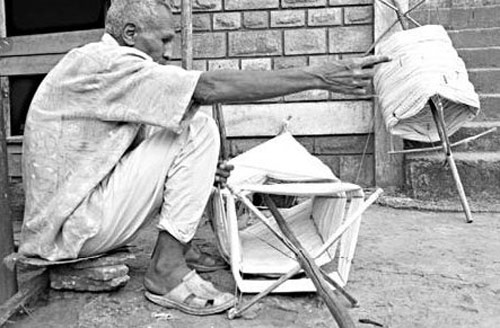 SoleRebels footwear is made from a variety of hand-woven, locally made materials in Ethiopia. The shoes sell abroad for $60 and up. Michel Temteme for the International Herald Tribune
Female entrepreneurs drive continent's fast-growing economies
Kampala, Uganda
Far too often, in the view of Africa's budding female entrepreneurs, their continent is characterized as the recipient of aid that enables residents just to struggle by, and as a place that mistreats and marginalizes its women.
It was into this world, and against it, says Bethlehem Tilahun, that her shoe company SoleRebels was born.
"I kept hearing over and over the phrase 'poverty alleviation,'" said Ms. Tilahun, now a footwear mogul whose company grossed $2 million in sales this past year. "The media, preoccupied with a singular narrative about 'Africa' that missed the story of Africa - part of a larger spectrum of endless entities that have monopolized Africa's image, our brand."
With SoleRebels, she said proudly, "We've inverted the whole paradigm."

Ms. Tilahun, 33, is one of a cresting wave of African entrepreneurs who are harnessing Africa's businesses and brands as the continent enjoys its greatest economic success in generations. The International Monetary Fund now forecasts, admittedly in a recession-plagued world, that Africa will have the fastest-growing economy of any continent over the next five years.
Many of the new entrepreneurs of Africa are women.
Beginning in 2004 as a recent college graduate in Ethiopia with a handful of artisans from the neighborhood and a workshop on her grandmother's plot, Ms. Tilahun has built SoleRebels (pun-intended) from a shop making sandals by hand into a multimillion-dollar enterprise that produces eco-friendly footwear - still handmade - selling abroad for $60 and up.
Her company has about 100 workers, and it recently opened its flagship store in central Addis Ababa, where its Ethiopian-branded fusion of Abyssinian and Western taste is on display. With each pair of shoes, she said, she seeks to change people's minds about Africa.
According to a World Bank report, more than 20 sub-Saharan African countries, or more than 400 million people, have gained middle-income status. The number of people living in poverty has fallen roughly 10 percentage points over the past decade.
The rate of female entrepreneurship is higher in Africa than in any other region of the world, the World Bank says. And even African countries criticized for abuses of human rights and civil liberties are progressive on gender.
"Women in the private sector represent a powerful source of economic growth and opportunity," said Marcelo Giugale, the World Bank's director for poverty reduction and economic management for Africa.
"In Africa, you see women working a lot," noted Markus Goldstein, a development economist in the gender department of the World Bank in Washington. "They are very active in the labor market." According to World Bank data, nearly two-thirds of women are participating in Africa's labor force.
In South Africa, Sibongile Sambo has been a pioneer for women in aviation. She leads a charter-aircraft company. In Kenya, Ory Okolloh, 23, helped found Ushahidi, a Web 2.0 crowdsourcing software initiative for real-time tracking of emergency events via cyberspace. It now is used by Google.
In Nigeria, Adenike Ogunlesi has built a regional children's clothing empire from scratch - she started by selling pajamas out of the trunk of her car.
In lakeside Uganda, Lovin Kobusingya has brought fish sausages to the dining table. "I always knew I was a businesswoman," said Ms. Kobusingye, 29, a mother of two. "When I was in high school, I used to sell illegal sweets. And I made money."
Her company, Kati Fish Farms, sells 500 kilograms of fish sausage a day, and moves 8 metric tons of fish a week. "I am very happy and proud" at being a female entrepreneur, she said. "When I was young, they said: 'A woman is a woman - a man should take care of you.' But women are actually contributing a lot more than men. We always find ourselves multitasking," she said, between working and raising a family. "If it could be equated in terms of currency, it would be 80 percent of the economy."
It may not be a coincidence that a number of Africa's economies doing the best without many resources - like Ethiopia or Rwanda - have austere, orderly, patriotic, aid-efficient governments that spurn charity and focus on investment and private enterprise.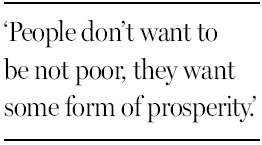 In Rwanda, a change in land-title laws to allow wives to be registered alongside their husbands led to a nearly 20 percent increase in female-registered farms.
"As I entered college," Ms. Tilahun noted, "it had become clear to me that 'poverty alleviation' is a myth. People don't want to be not poor, they want some form of prosperity. That doesn't mean millionaires or billionaires, but prosperous. And to create prosperity you have to create something world class."
As a woman growing up in Ethiopia, she said, there were people who tried to limit her because of her gender, "but I never felt any limitations."
SoleRebels products are now advertised in hip magazines in Toronto and Berlin, and Ms. Tilahun was named by Forbes magazine as one of 100 women to watch in 2012.
There is an "urgent need," she said, to create more African-owned brands delivering world-class products to the global market, to drown out charitable organizations "selling their variety of messages about and images of Africa."
"Let's face it," she said, "it's pretty hard to convince someone to buy what you are selling when someone else has convinced them you are solely occupied with swatting away flies from your face."
The New York Times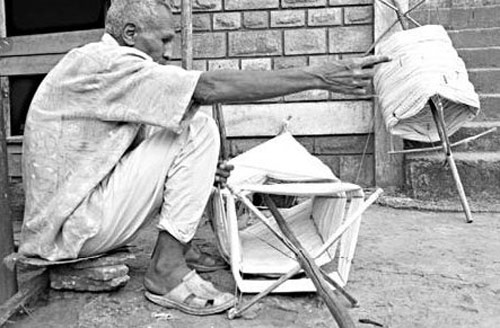 SoleRebels footwear is made from a variety of hand-woven, locally made materials in Ethiopia. The shoes sell abroad for $60 and up. Michel Temteme for the International Herald Tribune