Simba, I presume?
Updated: 2011-11-24 13:56
By Wang Ru (China Daily)
| | | | | | | | | | | |
| --- | --- | --- | --- | --- | --- | --- | --- | --- | --- | --- |
|   | | Comments() | | Print | | Mail | | Large Medium  Small | 分享按钮 | 0 |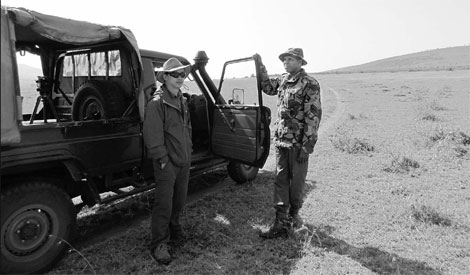 Zhuo Qiang patrols the Masai Mara National Reserve of Kenya. Photos provided to China Daily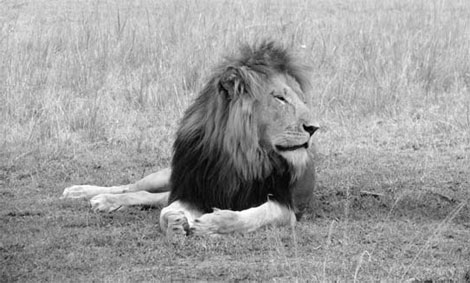 The number of African lions is decreasing fast.
The man whose real name is Zhuo Qiang has become a national figure in China for his work in protecting wildlife, particularly big cats, in Kenya. Wang Ru reports.
A Chinese man known as Simba has become well known to locals at Masai Mara National Reserve, Kenya, for protecting big cats and other endangered wildlife.
Simba patrols the 1,800-square-kilometer reserve, migrates along with herds of wildebeests and zebras, has been chased by the occasional angry elephant and witnessed the damage poachers cause.
Zhuo Qiang, 38, hasn't used his Chinese name for a long time. He prefers people to call him Simba, which means "lion" in Swahili.
He wears a cowboy hat, waterproof jacket and hiking boots, and has a gentle voice and humble demeanor.
For the past six years, Zhuo has traveled and worked at 20 nature wildlife reserves in 12 countries in Africa, from the immense plains to rainforest jungles and wetlands.
Zhuo generally wakes up in his tent at 5 am and joins a patrol of the Masai Mara reserve. In August, he saved a badly wounded male lion before he returned to China and went to 10 cities as part of a speaking tour.
He likes to start his speeches by playing John Barry's Born Free and a trailer to the first documentary about lions and Africa shot by Chinese, co-produced by director Zhang Hongfeng.
In the documentary To Walk with Lions, Zhuo shows why he chose to live with the big cats of Africa and take leave of China, a good government job and his wife and 7-year-old daughter.
In 2005, when he went to Masai Mara for the first time, Zhuo realized this was the place he wanted to spend the rest of his life.
"The media often misleads people about Africa, making them believe it is all filled with hunger, turmoil and danger," he says. "In fact, African countries are incredibly diverse in terms of their climates, landscapes, politics and culture."
His passion for wildlife was nurtured by his upbringing in the mountains of Guizhou province, where his favorite hobby was exploring the humid forests, catching snakes and watching wild animals.
From watching cartoons such as Jungle Emperor Leo and Tarzan, and films such as Out of Africa and To Walk with Lions, he became fascinated by the charms of Africa.
Zhuo majored in English and French at college, both widely used languages in Africa. His graduation paper was about his environmental concerns at the time.
After graduation, Zhuo worked in Chongqing's municipal government foreign affairs department, which gave him the opportunity to travel.
He found anacondas, crocodiles and piranhas in the Amazon River in Manus, Brazil; bears in Banff Park, Canada; kangaroos in Australia; sharks, and dolphins and skipjacks in the Maldives, Indian Ocean.
Since settling in Masai Mara, he has only returned to China for two months, during the rainy season.
Dangerous animals and homesickness doesn't worry him, but suspicion and misunderstanding by both Westerners and Chinese frustrates him sometimes.
For instance, Zhuo's Facebook page, recording his work in Africa, had posts from Westerners saying: "Watch out for the Chinese, he might be a spy from the Chinese enterprises for resources information or an undercover poacher."
"I was very angry at first but then understand how the rumor arose. There are many Chinese doing business in Kenya and other African countries, but it seems that what they care most about is money."
In 2011, a Canadian woman who gave her name as "Rosemary" joined Zhuo as a volunteer.
Three days later, she revealed she was a reporter from Canadian Broadcasting Corporation and making a program that would "reveal his true nature".
"She apologized and believed me to be a true conservationist. She said she would be my volunteer forever."
Zhuo's passion and hard work won over other Westerners, including one of the descendants of Dr David Livingstone, a pioneer African explorer.
Zhuo has also helped build schools and clinics in local villages.
In 2008, Zhuo created the bilingual website Friends of Africa and claims it is the first and only NGO in China that cares for wildlife conservation in Africa.
In September, he registered a charity fund in Kenya named Mara Conservation Fund, with the goal of increasing the number of lions in Kenya from 1,500 to 3,000.
"African lions are vanishing. There are less than 30,000 lions in Africa, just 10 percent of the population 25 years ago. If this continues, we won't see any wild lions in a few decades," Zhuo says.
Zhuo campaigns against hunting, which continues to threaten wildlife in Africa. "It is a shame for humans to kill animals for fun. Chinese people don't need to take part in the bloody game.
"I imagine that one day Chinese people can be as lucky as my African friends, who can see wild animals, not in the zoo, but born free in the wild."