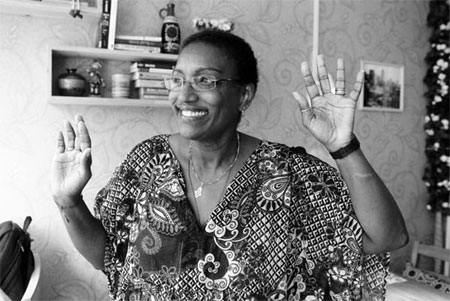 Kesho Scott, a visiting professor at Beijing Normal University, is committed to fighting racism. Feng Yongbin / China Daily
Her dreadlocks are gone - "I had them forever!" - but you can sense the passion that has always fueled this longtime US activist even over a casual caf breakfast in Beijing. Kesho Scott's eyes gleam bright under her newly close-cropped hair. Between the caf music and the point she's making, this is a teacher who is rarely still.
"The classroom is not a passive place," she says.
She has delighted in employing "guerilla tactics" over her 30-plus-year career, insisting that you get students to think and respond if you "get in their face a little" instead of simply lecturing from a podium.
Her mission in life, she says, is "unlearning racism inside and outside the classroom". That has kept her energized whether she's been in front of a worldwide TV audience on the Oprah Winfrey Show or a summer-school class in Beijing.
The veteran educator and author has spent three months here teaching sophomore-level American studies in a recently developed program for Chinese students who are studying in the United States. After a year abroad, such students are under two competing pressures: the desire to return home for a summer break with their families and the determination to make the most of their educational opportunity at a US university.
Enter Sinoway International Education, which offers "the first and largest US-standard summer school in China" on several campuses around the country. That gives students a chance to come home for a few weeks and remain plugged in to their studies. SIE brings teachers to Beijing, Shanghai, Nanjing and Guangzhou to offer courses that are transferable to North American universities in a wide range of disciplines: accounting, venture capital and entrepreneurship, English writing lab and many more.
"Hundreds of students get a chance to come home and keep up their studies," Scott says. "It's also a chance for us to check 'grade slide' for students who have been struggling to maintain their level of academic performance in a new environment. Being back in China re-establishes their comfort zone but still gives them US-standard classes.
"They are also getting a chance to know and study with students from all regions of China, a taste of diversity that they didn't always get here at home," she says. "And for the professors? We get a great opportunity to come to China and work."
Scott, an associate professor of American studies and sociology at Grinnell College in Iowa, has just finished her third summer stint at SIE, but her China experience has been broader and she's hungry for more.
"I first came to China in 2009, for a woman scholars' workshop at Fudan University in Shanghai," she says. "It was probably the first conference like that in China, funded by the Ford Foundation.
"There were eight of us 'women of color'," she says, and the group's novelty prompted a lot of discussion both among students and her faculty hosts, she remembers with a grin. "There were stereotypes flying all over the place, but it was great that people felt so free to talk about it. No matter what they thought or expected, they were curious and not shy about asking a direct question."
That was heartily welcomed by Scott, for she has always been happy to give direct answers. She got an early taste of how teaching could help her achieve her life goals in 1974, as an instructor in race-relations classes for Detroit's all-white police force after the election of the US city's first black mayor. That was a big jump for the former dance instructor's assistant at Toni Lewis School of Dance at the YWCA.
She has come to love a precept of Mahatma Gandhi's: "Fearlessness is the first requisite of spirituality."
In the course of her academic career, she has developed an "affirmative duty" technique that aims to change more than just awareness of racism. She wants to shift "commitment and skill-set toward being actively and personally anti-racist and anti-sexist, rather than remaining merely passive observers", she says.
A first step is simply changing expectations, an experience she has repeated many times during her several stints in China, where she has taught summer courses, conducted workshops and been a visiting professor at Beijing Normal University.
"One time when I arrived at the airport," she says, "I was surprised that the folks who were supposed to meet me weren't there. I waited and waited, but nobody came looking for me or holding a sign with my name." After waiting for more than an hour, she says, she fell into conversation with some Chinese who had also been waiting for a while and commiserated with them.
"Yes," one of them said with a sigh. "We're waiting for Dr Scott."
"I'm Dr Scott," she says, smiling then - and now - at the confusion. A distinguished visiting professor from the US is supposed to be tall. White. Male.
Whether talking about race in a public-radio debate in Iowa or with new friends at a Chinese airport, she says, "unlearning racism" is a challenge worth the effort.
"It's about knowing people as people," she says, and she can't wait to come back to China next year and know a few more.
michaelpeters@chinadaily.com.cn