Perfectly wrong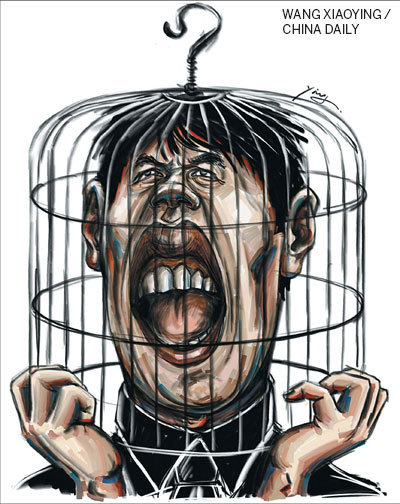 Repeated washing of hands, an obsession with closed doors or windows, anxiety about cleanliness - these may all be the physical symptoms of a much more disturbing mental disorder. Liu Zhihua explains.
Xiao Ming suddenly covers his mouth with his hand, blinks hard and smiles.
"Sorry I repeated the last few words so many times," he says, stuttering as he nervously explains. "I couldn't control myself."
Xiao is suffering from obsessive-compulsive disorder (OCD), recognized by the World Health Organization as one of the top 10 most disabling disorders in terms of its effect on the quality of life.
It is estimated that China has more than 13 million OCD sufferers, according to Yan Jun, an established mental health specialist with the Peking University No 6 Hospital.
"In daily life, people use 'obsessive-compulsive disorder' to describe someone who is meticulous, perfectionistic, or fixated, and it is meant as flattery, more or less," Yan says.
"But in medical terms, the phrase refers to a mental disorder that means a living hell for patients."
An OCD patient is beset with obsessions or compulsions or both, and suffers from extreme anxiety or depression, she explains.
"The good news is, in most cases, the disorder develops slowly, and people have time to deal with it before it becomes too severe," Yan says.
Everyone has obsessions or compulsions, but these develop into symptoms of OCD only when the obsessions and compulsions become all-consuming and get in the way of daily life.
About 50 percent of OCD cases take years and even decades to develop. Less than 10 percent develop within a few days, and others may occur over the course of several months, Yan adds.
College graduate Zhong Lin developed OCD in high school, but was not aware there was anything wrong at that time. She comes from a family with a strict father and an unloving stepmother. Zhong became a perfectionist, always aiming for good grades, but always failing to do well.
At age 17 she was already worrying about the neatness of her desk and bed, and would get excessively bothered if they were not fastidiously clean and tidy.
She thought these were merely harmless habits, even if they were distracting - until the time she spent on these obsessions became abnormally lengthy.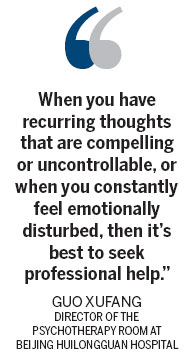 In 2010 - almost five years after she first noticed her "bad habits", Zhong was finally diagnosed with OCD and depression.
"I'm lucky that my symptoms were not too severe when diagnosed," Zhong says. "After undergoing psychotherapy and taking medication for two years, I'm mostly recovered."
"The causes of the disorder are not clear, but there is a widely agreed hypothesis that both physical and psychological factors play a role," says Guo Xufang, director of the Psychotherapy Room at Beijing Huilongguan Hospital, a respected mental health hospital in the capital.
"Genetic mutation, some personality traits and psychological pressure all contribute to OCD," Guo explains.
If a person grows up with strict guardians, or has personality traits that include an over developed sense of responsibility, constant attention to detail, careful planning, an aversion to risk, and a tendency to weigh decisions for too long, their chance of getting OCD is increased, Guo adds.
"In a fast-paced society, it is very important to accept adversities and failures in life, and let them go," Guo says.
In Xiao Ming's case, he developed OCD because of his search for security and respect, and the psychological pressure of hiding his depression from others for years.
He was uncontrollably obsessed with things that others may consider just normal everyday occurrences, and he would repeatedly check locks, doors, and windows all the time.
"I felt extremely insecure. Only through repeatedly doing these things then I felt I had done something and I would find temporary relief."
He was diagnosed with OCD in 2005 but without efficient treatment, he got worse. He started an obsession with digits and decided numbers, such as 19, 38 and 61, were lucky numbers, and he would repeatedly act according to these numbers.
For example, he would combine the number of steps he took and the number of times he washed his hands, and the total must add up to these "lucky" numbers. If it did not, he would repeat the whole process.
He also started repeating what he was saying dozens of times, and felt the compulsion to do embarrassing things in public, such as pouring water over someone's face.
Xiao was admitted to Beijing Huilongguan Hospital late in 2011, and after three months of treatment, his condition improved.
"For mild OCD patients, psychotherapy is enough, but severe cases need to be treated with a combination of psychotherapy sessions and medication," Guo says.
"Treatment may not necessarily effect a complete cure, but OCD can reach frightening levels if it is not treated."
In many cases, people with OCD are diagnosed with other related conditions, such as depression, general anxiety disorders and social anxiety disorders.
Medication treats the chemical abnormalities in the nervous system, while psychotherapy, mostly "cognitive behavioral therapy", helps patients learn to tolerate the anxiety associated with not performing obsessive or compulsive acts.
"Unlike physical diseases, OCD can only be treated efficiently when the patients are willing and cooperative," Guo says. "When you have recurring thoughts that are compelling or uncontrollable, or when you constantly feel emotionally disturbed, then it's best to seek professional help."
Contact the writer at liuzhihua@chinadaily.com.cn.