Vision possible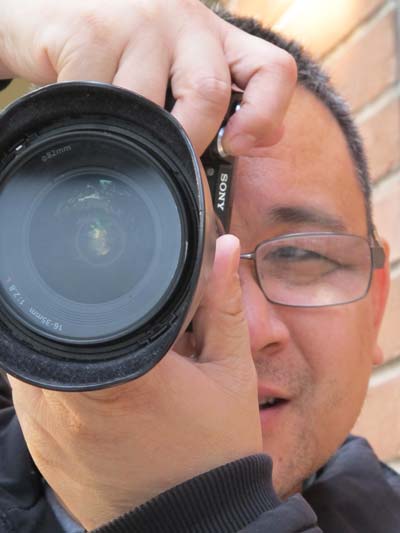 Taking every photo is a challenge for Jin Wei, who is visually impaired. His ambition is to hold a solo exhibition. Provided to China Daily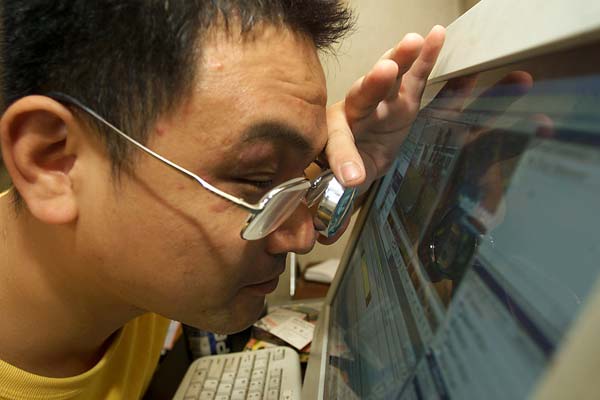 Jin Wei edits his photos on the computer with the aid of a magnifier. Gao Erqiang / China Daily
Almost blind, Jin Wei didn't let this stop him from pursuing his love for photography. Shi Yingying reports in Shanghai.
Shifting between two pairs of thick glasses - one for daily use and a magnifier, Jin Wei is nearly blind. But, he uses whatever little vision he has left to capture the beauty of the world - using a camera as his tool. "To be able to see is a gift," the 44-year-old from Shanghai says.
"I'm moved to tears with small details, which most people consider ordinary."
Even with spectacles, his vision is blurry and whatever he sees quivers, like a television without aerial. Thus, every photo he takes is a challenge. He has to stand still, pause for more than 20 minutes before his eyes can focus on a subject.
But no one would have guessed that Jin is visually impaired based on the quality of his photographs, which have been published in Popular Photograph, China's top photography magazine.
"Many would think photography is the last hobby a nearly-blind man would turn to. But I don't want to let my poor vision stop me. Like any other normal person, I've an equal right to press the shutter release button, to capture the moment, to record the world," he says.
Born with several congenital eye diseases including cataracts and optic nerve hypoplasia, Jin was diagnosed as blind, with a vision of 0.08/6, which means he can only see things which are 0.08 meters from him. Good eyesight is called 6/6 vision, which means people should be able to see the alphabet when they are standing 6 meters away from an eye chart.
From the moment Jin held his first camera, he aspired to be a professional photographer.
"But my biggest concern was whether I would be able to focus. I was worried about what people would say about a blind photographer," he says.
He uses his instinct and understanding of the equipment to aid him. He adjusts his aperture speed and uses the tripod all the time to ensure sharp pictures. He also keeps himself updated with the latest focus lenses.
Jin uses his listening skills to compensate for his lack of vision. He says by listening attentively, he can estimate where his subject is and the distance.
"All my photos were blurry before I bought the auto-focus camera," Jin says. "Despite the initial sense of shame, I later found those unfocused pictures to represent the authentic me - a nearly-blind lensman trapped in those moments, unable to focus."
Jin says he still remembers the first time he watched color television as a child.
"I cried the whole night because it triggered my desire to see colors and even to capture them," he says.
When he entered college, he bought his first camera with the money he collected from singing ballads on the streets. It was fool-proof photographic equipment.
"Before I invested in a camera, I tried to borrow one because I wanted to take a photo of my girlfriend, my first love." But nobody would lend him one, says Jin, who has more than 10 cameras now.
Although he was excited when he had his first camera, he didn't have enough knowledge about photography.
"I searched high and low for photography books, burning the midnight oil reading. Because my eyes tire easily, I have to rest every 10 minutes. During that period, I wore out five magnifying glasses to aid me," he says.
The main themes of his photographs were related to the daily lives of the visually-impaired.

"For example, normal people won't be able to imagine how the blind play poker. I recorded that with my lens not only because I'm a cameraman, but also because I understand them," he says.
But his greatest interest is press photos. "I admire news photos and I spend a lot of time searching online for them, to study the special visual angles. But most news photos do not have enough love in them."
Jin hopes to hold a solo exhibition one day to share with fellow visually impaired people what they can do despite their weakness.
Contact the writer at shiyingying@chinadaily.com.cn.