Smile and take your own photo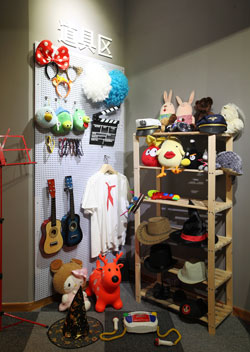 The studio provides a few props, such as stuffed toys and colorful glasses. Provided to China Daily
Photography studios are popular with young girls, who love to see their pretty faces in picture albums.
It's a fiercely competitive business, so studios have developed lots of gimmicks to attract customers: new backdrops, more colorful dresses and delicate makeup services.
One studio goes in a different direction, allowing the customers to become their own photographers.
It is a small photography studio named Wopaiwo ("I take a picture of myself") near the Xujiahui business district.
Unlike other professional photography studios, Wopaiwo doesn't provide extraordinary internal decorations or makeup and hairstyle professionals.
It only has two rooms, each equipped with a SLR-camera, a mirror that's placed behind the camera, a box of lights on the ceiling, a large LCD on the wall, and several wallpapers in various colors.
So, how does it work?
Customers stand in front of the camera, their backs to the wallpaper. There is a line drawn on the floor, showing the focal point for the best shot.
The mirror helps customers judge their standing position and pose. When everything seems perfect, the client can click the shutter with a hand-held remote.
Compared to the traditional photography studios, the photos in Wopaiwo provide more opportunity for customers to express their own feelings and creative ideas. Without heavy makeup and stiff hairstyles, the photos can be more lifelike.
The studio does provide a few props, such as stuffed toys and colorful glasses to add interesting elements during the photo shoots.
For those who are shy in front of photographers, this is a great place to shed the inhibitions. It is also ideal for a reunion with friends. The bigger room can accommodate up to 11 people, while the small one can hold four to five.