Watching the detective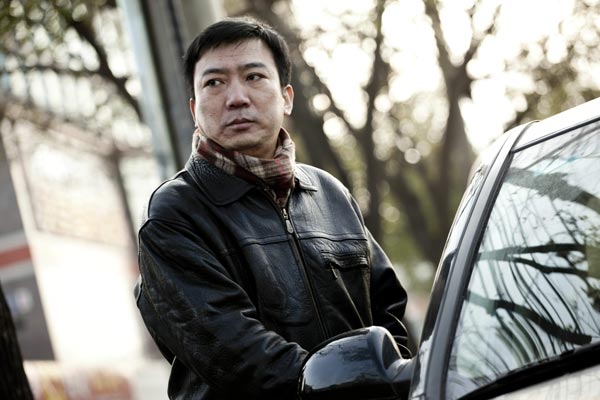 Above: Zhang Lixian, who plays Detective Hunter Zhang, rides his scooter home. Below: Zhang offers a light to the character played by folk singer Zhou Yunpeng (right). Photos Provided to China Daily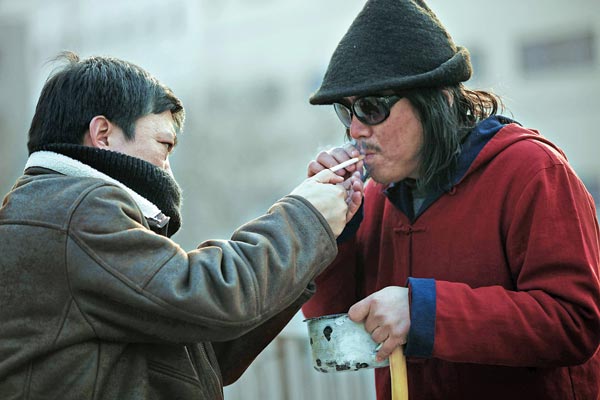 A popular publisher channels his literary wit into an acting gig that is turning heads, reports Raymond Zhou.

Zhang Lixian is a celebrity. But it takes many by surprise that he stars in the leading role of an upcoming feature film. Zhang is a publisher, best known for his mook (magazine-style book) Duku, which he puts out six times a year. In Beijing, he is part of a circle of literary and artistic figures whose influence reaches beyond their domain of expertise. It would be quite natural to visualize Zhang and his peers in a Woody Allen-like talkfest. But no. Gao Qunshu wants to go one step further. Gao, director of such acclaimed movies as The Message and Old Fish, made a cop drama. Instead of casting professional actors or real cops, he came up with the quirk of using two dozen non-professionals who excel as maverick intellectuals in the real world.
The result?
If audience response at the just completed Shanghai International Film Festival -which granted the Golden Goblet Best Director Award to Gao - is to be trusted, it would be like having Woody Allen in a police movie, less shootout but more intellect.
Zhang Lixian plays the title role in Detective Hunter Zhang, officially translated as Beijing Blues. Hunter is a Hollywood television series that was shown in 1980s China. It was so popular that Zhang Huiling (no relation to Zhang Lixian), the real Beijing cop upon whom the movie is based, was given the nickname.
However, Zhang Lixian did not need to imitate the real cop. He did not even get to wear the police uniform. The truth is, the prototype is a plainclothes policeman and the actor's only chance to put on the garb ("to show off", as he puts it) was for a family photo that was used as a prop.
People tend to associate non-professional actors with certain traits, such as timidity in front of the camera, inefficiency in immersing in the roles. When asked about this, Zhang Lixian is philosophical: "We might have sweated profusely when we first started; we might have failed to clinch the ideal performance, even with numerous takes; and we might have driven the director crazy. Because we had no idea about acting techniques, we might have slapped the other actor too hard when the script called for it, rather than fake the hand gesture; and we might have got inebriated for a drinking scene. But, we did not see ourselves as so-called artists."
The advantage of casting a non-professional, according to Zhang, is unawareness of the camera. Professional actors intuitively carry themselves in a way that, however subtly, lets you know they are acting, that they are working hard to convey something. "But ugly-looking guys like us have nothing to show off. We may not be as good as they sometimes are, but on the other hand we won't be as bad as they sometimes are," says Zhang.
What Zhang Lixian and co-stars do not have - knockout looks and star quality - they make up for with an abundance of brainpower. Gao Qunshu, who also wrote the script, encouraged his cast to improvise when it came to line reading. For a while, the cast members, most of whom have huge followings on their Twitter-like micro-blogging accounts, were attempting to outwit each other with bon mots.
"It was hard for the one doing ad-libbing, but also hard for the listener because he had to respond to whatever was being uttered impromptu."
Zhang has a streak of humor that is self-deprecating and wildly funny. But he sees himself more as a writer than a speaker. He said he would often find the best response the morning after a scene was shot. A co-star, who is a well-known stage director of experimental theater, described Zhang's improvisation as "delayed acting".
But when the 42-day shoot neared completion, Zhang realized that the best acting is one of restraint, not showing off. Some of the scenes he thought he had shone in ended up on the cutting floor. "Bragging is for the young," he reckons. "The best method in acting is if you do not use any method."
Another lesson Zhang learned while making Beijing Blues: acting is mostly waiting. Shooting on the wintry streets of Beijing, he and his co-stars spent most of their time waiting in the trailer while the crew set up each scene. He used this slack time to surf cyberspace, especially what was happening in the combative world of micro-bloggers.
"I could not help feeling disgusted by the bitterness and viciousness with which people staged verbal fights with each other. Whether it be proclamations to kill or rape the opponents and their families, the words or fantasies amount to a people's history of violence," Zhang wrote in a series of articles about his movie-making adventure.
It is perhaps not by coincidence that Beijing Blues has a similar theme. While profiling the life and work - mostly work - of Detective Zhang, the plot serves as a clothesline along which various scams are depicted, some brief and isolated while others ran throughout. The victims of the scam artists are ordinary people, often those at the bottom of the social ladder.
One episode is about a young couple on the street exchanging counterfeit 100 yuan notes, with small peddlers, and get arrested by Detective Zhang. During the interrogation, the woman receives a call and is told that her daughter is missing. Zhang accompanies the desperate woman on a search while mobilizing more cops to join them. In the end, the young girl is found dead, run over by a speeding car whose driver made sure she was dead for fear of extortion.
The leader of the pickpocket ring Zhang's squad tries to nab sends out an ultimatum: He will steal 100,000 yuan as a fund for the bereaved mother. The detective, thus, is caught in a moral dilemma.
"The mutual abuse of ordinary people goes beyond legal offenses and enforcement, or crime and punishment. In our world, good and evil coexist, humanity and cruelty often weave into a whole. This is what our film is all about," says Zhang Lixian.
Ultimately, it is not about "violence" or how people hurt each other, but "reconciliation" or how people help each other. A wealthy neighbor pledges to donate the 100,000 yuan, to help the unfortunate woman who is out swindling others, and also to protect the sanctity of the law. The title character, constantly harassed by someone who feels owed something, has a heart-warming moment with his tormentor in the dancing snowfall of a Beijing night.
Unlike his co-stars, Zhang Lixian displays acting chops that go well beyond his own temperament. There are scenes, like the above final moment, where he has to exhibit layers of nuances that add to the three dimensionality of the character. His is one of the rare cops on the Chinese screen, totally credible and subtly moving.
At the Shanghai Film Festival, director Gao Qunshu remarked while accepting the Best Director Award that what he really wanted was the Best Actor kudos for Zhang Lixian. He had previously joked that, if Zhang did not win anything, he would set up a "Beijing Shuangyushu International Film Festival" and confer the prize on Zhang.
Shuangyushu is the Beijing district, near Renmin University, where Detective Zhang Huiling works and where much of the film took place.
For Zhang Lixian, the publisher-temporarily-turned-actor, all the movie glitter - red carpets, paparazzi and all - did not faze him at all. "I was just a volunteer who did not make money out of it, but my acting sparkled a little," he said in his usual deadpan tone.
The movie opens nationwide on July 20.
Contact the writer at raymondzhou@chinadaily.com.cn.