Katy Perry fearless in 'warts and all' film portrayal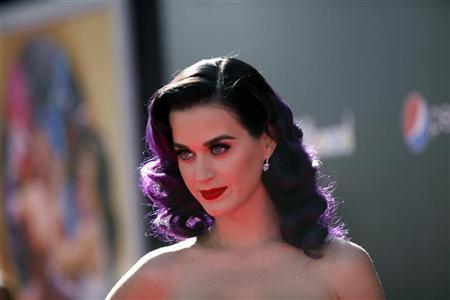 Cast member and singer Katy Perry poses at the premiere of "Katy Perry: Part of Me" at the Grauman's Chinese theatre in Hollywood, California June 26, 2012. [Photo/Agencies]
It started as just another concert film, but as Katy Perry's marriage to comedian Russell Brand unraveled, her new documentary transformed into what she called a "warts and all" depiction the pop star is happy to show her fans.
"Katy Perry: Part of Me," which debuts in 3D on Thursday, is anything but standard fare. Most performers wouldn't dare show fans what they look like first thing in the morning without make-up, or worse, doubled over bawling backstage in costume. But Perry insisted that everyone see.
"I'm OK with showing what's behind the curtain," Perry, 27, told Reuters in a recent interview. "I'm OK with showing that side of me because it helps people relate (to me) better and think of me as a human being."
On its face, the movie chronicles the singer on her first world tour in 2011, but as the year played out, "Katy Perry: Part of Me" chronicled the demise of her marriage to Brand, whom she wed in 2010. By December 2011, they had split and in February, they divorced.
The film shows Brand early on, happily visiting Perry backstage and picking her up in his car. But soon he disappears from the story, and Perry begins to suffer emotional breakdowns and fits of crying while her team of handlers seems helpless.
The movie humanizes Perry in a way that is rare in Hollywood where the star-making machinery cranks out performers who, seemingly, live glamorous, carefree lifestyles of which others only dream.
In fact, Perry's success has been based mostly on a larger-than-life, almost cartoonish image of herself with ever-changing hair color and over-the-top outfits featuring cupcakes and lollipops. She sings pop songs such as "California Gurls," "Hot N Cold," "Teenage Dream" and "Last Friday Night (T.G.I.F.)"
Her third studio album, "Teenage Dream," saw five singles hit No. 1 on music charts - a first for a female. She has sold 11 million albums worldwide and earned 8 Grammy nominations.
TELL IT TO HER FANS
The singer, also known for inspirational anthems like "Firework" and "Part of Me," is aware of her influence on young fans, and she said that with the film, she wanted them to see her in all her glory - good and bad - so they could know "they don't have to be flawless in order to get success."
Yet Perry is quick to add she never anticipated hitting a personal low while simultaneously reaching a professional high.
She originally wanted to document on film a period in which she felt "something big was happening" in her career but had no idea her marriage would crumble.
"I wanted to share it with my fans, but I didn't know in what capacity it would be," she said.
With a few months distance, Perry said she has learned "a priceless lesson" that includes "holding your ground" when those around you want to change you and that there will always "be obstacles if you want to achieve something."
She has kept mum about the details of her split from Brand even though the media has speculated about the cause.
"There's no way to control that, and you have to accept that this is part of the job," said Perry. "But I was careful every step of the way ... we're both trying to keep (the divorce) between each other."
She hopes fans take away from "Part of Me" that "if you have problems, it's OK and you're not alone in what you think are your unique problems."
Never one to rest on her laurels, those problems are now being turned into hit songs, with her latest, "Wide Awake," a direct reference to her failed marriage. It includes lyrics such as "Falling from Cloud 9" and "I wish I new then/What I know now/Wouldn't dive in/Wouldn't bow down."
The video for the song shows her reconnecting with her younger self and smacking Prince Charming across the face. If this signals an introspective Perry, she doesn't mind one bit.
"I can't always be the candy queen, so maybe it's time for a little bit more meat and potatoes."