Museum offers chance to enjoy tasty duck recipe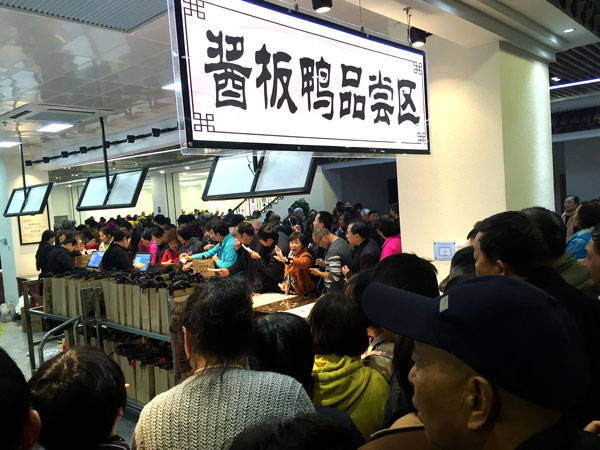 The Sanzhenzhai duck museum in Wuzhen draws visitors who wish to learn about its century-old duck recipe and sample the dish. [Photo by Yang Feiyue/China Daily]
The museum offers free sampling, which is very popular. And most visitors buy after tasting, Lu adds.
The interior of the museum resembles a private garden. And, sculptures and photos showcase the brand's history and the delicate process of cooking the duck.
Chefs in uniform demonstrate key steps in the preparation of the duck.
At the museum, visitors get a glimpse of the brand's recipe for success-from duck selection and marination to drying.
To get the ideal result, the duck has to be cleaned twice before being boiled in water at around 85 C for eight minutes.
Then, it is left to cool before being stewed with such ingredients as cinnamon, star anise, rice wine and ginger for half an hour.
Afterwards, the duck is put in a secret sauce that claimed to be as old as the brand for another half an hour, and then air-dried.
Yao Ai'er from Kunshan in Jiangsu province bought six ducks on her visit to the museum in late November.
"I tasted it, and it was delicious, so I bought some for my family and friends," says Yao.
The museum is two-hour drive from her home and Yao says she will definitely return if she visits Wuzhen again.