New wine latest link between Australia, China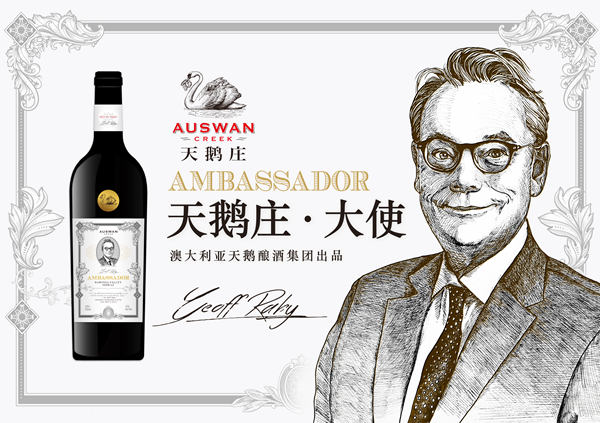 Australia's former ambassador to China Geoff Raby has teamed up with the Swan Wine Group to craft a new Ambassador wine series. [Photo/China Daily]
Diplomats, business types and longtime Beijing residents may find a familiar face grinning back from a bottle of red wine this month.
The grin belongs to Geoff Raby, Australia's former ambassador to China, who has teamed up with the Swan Wine Group to craft a new wine from Auswan Creek in Australia's famed Barossa Valley.
"Mr Raby was the perfect fit for our new Ambassador wine series," says Wei Li, president and CEO of Swan. "He is a well-known wine lover and continues to be an active promoter of Australian products. He also understands the Chinese taste in wine, which generally favors reds that are fruity, easy to drink and low in acidity."
The company already has a Governor series of wines, and while Swan has only been in the China for five years, it has focused on this market and has created other wines specially for Chinese drinkers, including a vintage for the Year of the Rooster and a bottle celebrating Yunnan's famed Peacock Dance creator Yang Liping. Chinese TV host Olivia Xu is a brand ambassador for Swan, as is Yang.
Swan Wine Group exported 250,000 bottles of wine to China in 2016.
Raby's blending and tasting sessions at Auswan Creek were joined by master of wine Robert Geddes and resident winemaker Ben Riggs. Riggs also made 15 trips to China to explore Chinese tastes in wine.
The result is a 2015 shiraz in a limited edition of 15,000 bottles, which Chinese distributors snapped up in a WeChat store presale in just two weeks.
"It's a big and smooth wine - 18 months in mostly new oak," Wei says. "We started with 48 samples from a single vineyard with vines at least 60 years old."
Tastings narrowed that to six chosen barrels for the final blend. The bottled wine has a fairly high alcohol content: 15 percent ABV.
The numbered bottles, each personally signed by Raby, will sell for 777 yuan ($114) at restaurants and clubs that carry Auswan Creek brands. The wine is also distributed through the 1919 chain, sold through Walmart and Carrefour, and available online through JD.com.