Ningxia's heady with success in trading wine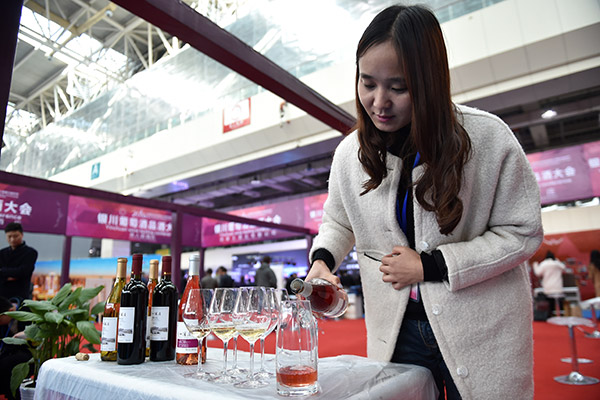 A worker from a winery pours wine at a wine tasting conference in Yinchuan, the Ningxia Hui autonomous region. [Photo/Xinhua]
In 1984, Northwest China's Ningxia Hui autonomous region produced its first bottle of wine. And 33 years on, the beverage is not only a key local industry but Ningxia's mascot that the world recognizes.
For the past five years, more than 300 kinds of wines from Ningxia won awards both in China and overseas.
"Ningxia is one of the most suitable places for growing grapes and producing wine," said Li Jianhua, party chief of Ningxia Hui autonomous region. "If there are Chinese wines that win awards at wine-tasting competitions, they must have been produced in Ningxia."
Ningxia Grape Industry Development Bureau data show that by 2016-end, the planting area of grapes in Ningxia reached 41,333 hectares. Ningxia has 86 wineries. What's more, 98 new wineries are coming up.
Every year, Ningxia produces about 120 million bottles of wines, generating sales revenue of about 5 billion yuan ($730 million). The industry-wide output reached 20 billion yuan in 2016, up 60 percent year-on-year.
Xu Jun, deputy director of the NGIDB, said that Ningxia's natural environment is ideal for the development of grape and wine industries, which have already created more than 120,000 jobs. Wineries have also become tourism hot spots: there are 21 wineries in Ningxia that receive 350,000 visitors a year.
He said that the wine industry has developed quickly only in the past few years, amid China's economic growth and the launch of Belt and Road Initiative.
"Owing to China's economic transformation, many coal and oil companies are also seeking to transform themselves and diversify, and they naturally turn to the wine industry," he said. "So, these financially strong companies are able to invest on good equipment and technologies to develop wineries."
The Belt and Road Initiative has also set up platforms and transportation channels for the exchanges between Ningxia and other countries.
Through the international freight trains connecting Chinese cities and Europe, Ningxia exports its wines to economies related to the Belt and Road Initiative. Local companies are also learning about the best technologies from other countries.
"Many economies related to the Belt and Road Initiative, such as Georgia and Hungary, have a long history of producing wine, so the exchanges with them would be important for Ningxia," said Xu of the NGIDB, adding that this year Ningxia will bring in grape seeds and seedlings from Georgia, France and Italy.
He said Ningxia's wine industry has a high level of international elements. In every winery in Ningxia, there are wine makers from countries such as France, Australia and Italy. And almost all the owners of these wineries have once studied overseas about wine making culture and technologies.
"With the advent of the Belt and Road Initiative, not only makers of Ningxia's wine but those making other products will utilize it to go overseas," he said.
Ruan Shili, general manager of the Chateau Changyu Moser XV Co Ltd in Ningxia, said the company, which was established in 2010, receives more than 100,000 visitors a year. Changyu Group also has six wineries in China, and two more are coming up. Its wines are exported to six countries in Europe and the United States.
Ruan said Changyu's wine development has been global since the beginning. In 2014, it bought a winery in Bordeaux of France and in 2016, one in Spain.
"This year we are about to purchase wineries in Australia and Chile, and we will also cooperate more with economies that support the Belt and Road Initiative," he said.