Sips of the Silk Road highlight legacy of traders
The dates are from present-day Pakistan, the roasted cumin from Xinjiang.
"It's a drink that captures the essence of the Silk Road," says Beijing's amiable barman Badr Benjelloun of one of his favorite cocktails, From Kashgar with Love. Kashgar, an oasis city in the Xinjiang Uygur autonomous region, is the westernmost Chinese city and it has become virtually synonymous with the ancient trade route.
The routes are much more than a chapter for history books - they represent a cultural legacy that lives on today, even in food and drink.
Moroccan native Benjelloun is well-versed in the lore of the Silk Road - his countryman Ibn Battuta arrived in the year 1345 at Quanzhou in China's Fujian province, and journals recording his journeys in the Middle East and Asia are among the most colorful lore of the old traders' era.
People would travel for a long time, sometimes years to move spices, tea and other goods from one end of the known world to the other.
"Of course, they needed to eat," says Benjelloun, and his Kashgar-themed cocktail reflects foods that came to be found from one end of the Silk Road to the other.
The result is blend of Spanish gin, fresh-squeeze apple juice, crushed date, grapefruit bitters and freshly roasted cumin - that final touch sprinkled on top "to put the desert on your palate", he says with a smile.
He debated which liquor to use for the base and settled on gin, which he calls "the traveler's liquor".
"There is actually a cocktail called Silk Road - it's gin and grapefruit basically," he muses. "Citrus appears a lot in Silk Road recipes, old and new, which is a little odd considering that not much citrus grows along the route."
Perhaps that's while it was coveted.
Apples originally came to China from what is modern-day Kazakhstan, but by the peak of the ancient traders' era, Benjelloun notes, the fruit was known from Italy to China.
"From color to flavor," he says, "the whole package captures the aura of the Silk Road. It's mellow and easy to drink, with flavors that would keep me in Kashgar."
Inspired by Benjelloun, China Daily checked in at some other hip bars around China to see how Silk Road flavors have inspired today's cocktail shakers.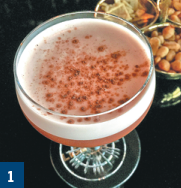 1 Gluhwein Flip
Creator: Sunny Sun, Mercedes Me, Beijing
Poached fig adds richness to a blend of red wine, five-spice powder, cacao amaro, egg white. 75 yuan
Silk Road fun fact: "Figs probably first traveled east to China along the Silk Road after the Islamic conquests," K.E. Carr writes in her History of Figs, "as the first time we hear about figs in China is about 700 AD ..., and then people in China called figs by their Arabic name, tin.