Return of the cheese man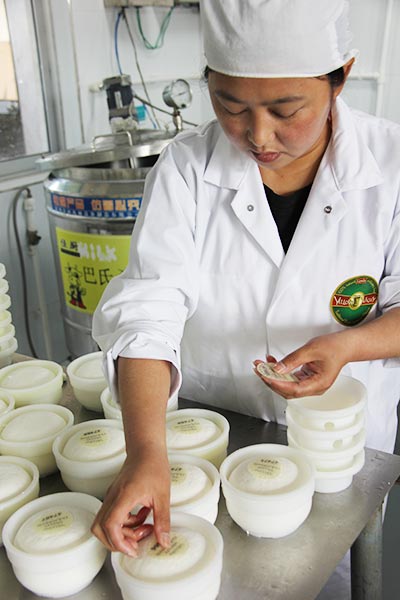 Yellow Valley trained a local housewife who had never had a job before, Qing Qing, to be its resident cheesemaker. [Photo provided to China Daily]
"These little guys were not the problem-country farmers are not chemists," he says. "How would they know how to make fake protein or have the capacity to produce it?"
De Ruiter originally launched Yellow Valley both to support the small farmers around him, promote organic farming methods and to excite expats who missed their artisan-style cheese. There were five flavors on offer: Original, herbs de Provence, onion with garlic, spicy Italian and cumin.
"The recipe hasn't changed in 100 years," he says. "We found we were able to make cheese that was as good as we could get in the Netherlands."
The dairy scandal that launched his business, however, came back to bite it. By 2011, government regulators had moved strongly to revive the industry, and one requirement-urged by the big commercial producers-was an industrial-level testing lab in every dairy facility.
"Small producers, who hadn't caused the problem in the first place, were pretty much cut out of the business," he says. Yellow Valley shut down.
But De Ruiter kept getting calls and emails from shops and individuals who had become fans of his farmhouse-style Goudas, and he hit on a solution that fit in with the new regulations. He could make artisan cheese if it was produced from a single farm, at that farmhouse, and if he sold only online, such as his WeChat and Taobao stores as well as sites like Group Mall. No brick-and-mortar third-party stores or distributors.