Belgian chocolate firms target Chinese market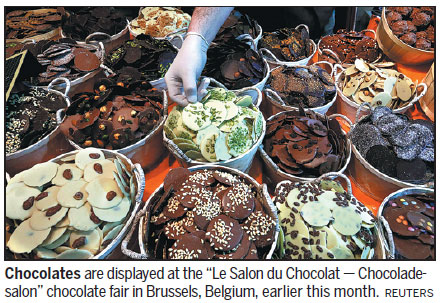 The fourth Brussels "Le Salon du Chocolat" brought together more than 130 Belgian chocolate manufacturers, distributors and confectioners recently, offering a visual and interactive experience.
Many Belgian chocolate companies such as Leonidas and Pralibel, who took part in the event, expressed their eagerness and willingness to explore the Chinese market and also spoke about the challenges they faced in the market.
The Neuhaus Company, which has chocolate stores in Shanghai, said that although it wanted to open more stores in China, one of the difficulties it faced was not being able to understand the flavor preferences and shopping habits of its Chinese customers.
At the event, visitors were treated to a number of displays. One of the most fascinating scenes was the "chocolate Eiffel Tower" which was 3 meters tall and weighed 350 kg. It was made by a Belgian chocolate master and the chocolate brand Leonidas, and it took about 550 hours to complete the masterpiece.
Chocolate fashion shows were also staged at the event. Besides, chefs did cooking demonstrations using chocolate in their recipes.
A chocolate classroom was also set up for children to let them learn about the production of chocolate.
(China Daily 02/21/2017 page19)