A culinary page-turner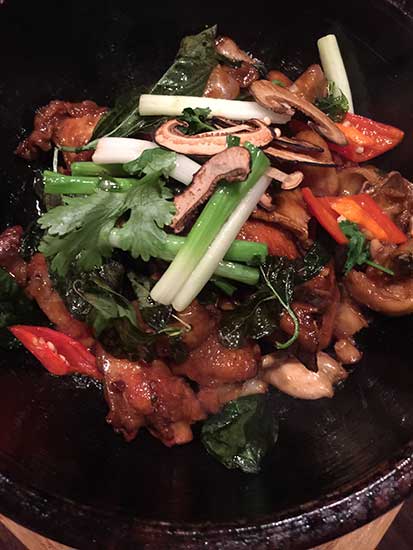 Three-cup chicken in iron pot.[Photo by Mike Peters/China Daily]
Jereme Leung elevates simplicity into art at his wharfside eatery From a Chinese Cookbook, Mike Peters reports from Shanghai.
The beef is paper-thin, sliced from the cow's shoulder, and flash-fried with chef Jereme Leung's sun-dried tomato spice. The resulting nibbles are crispy and caramelized, like the common candied Chinese walnuts stir-fried with sesame.
The taste, however, is far from ordinary.
One of my fellow diners is a middle-aged Shanghai woman who eats little meat and has little patience for the "fuss" of fine dining. She can't stop eating it. She's reminded of a fish dish made in a way she relishes. To me it's more like beef jerky gone to glory: savory-sweet, easy to chew, and presented as if for an imperial table. By the time the next course arrives, the three of us at our table are scrabbing around the plate with our chopsticks, chasing the last crunchy tidbits.
From a Chinese Cookbook, Leung's name for his restaurant, is based on his 30 years of travels around China. His recipes really reflect a sense of many Chinese cookbooks encountered along the way. He's written more than one himself.