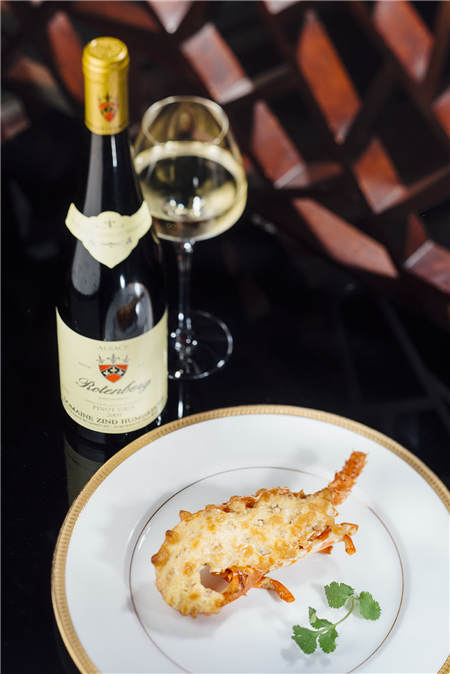 Executive chef Kwong Wai Keung's baked sliced fresh lobster with mozzarella.
The guide's mainland debut is certain to raise the profile of China's culinary practice.
Traditionally, the guide was focused on fine-dining establishments - leaving some to snipe that a gilded toilet was more likely get you a Michelin star than really excellent food - but the most recent editions have promised to award stars based on food quality alone. Michelin made headlines in 2008 by giving the Japanese capital more stars than both Paris and New York combined. The 2016 edition for Hong Kong and Macao, meanwhile, cheered many for being the first Michelin Guide to include a street-food category.
Such egalitarianism hasn't pleased everyone. In fact, Michelin has taken some heat for having different standards in Asia. One Shanghai city magazine notes that restaurant critic Andy Hayler, reportedly the only man to have eaten in every Michelin three-star restaurant in the world, considers Hong Kong's starring standards to be "egregious to the point of damaging the Michelin brand".
Such voices will be in a minority this month, however, as China's foodies await the judgment of Paris.
Most will share the enthusiasm of Michael Ellis, international director of the Michelin Guides, who bubbles in a company press release: "The richness and quality of Shanghai's culinary scene completely won us over!" The city's "strong cultural heritage" and "range from popular to fine dining restaurants" were cited as giving Shanghai star quality.
In the weeks ahead, Shanghai food lovers will just have to wait and see.
Will their favorite restaurants snatch the coveted stars? Will that make it impossible to get a table there for the next six months? Will chefs that win be able to snatch the best kitchen talent from competitors who didn't make the cut - or will the wannabes invest in elevating themselves, knowing that an anonymous team of Michelin reviewers could drop in tomorrow?
Stay tuned.