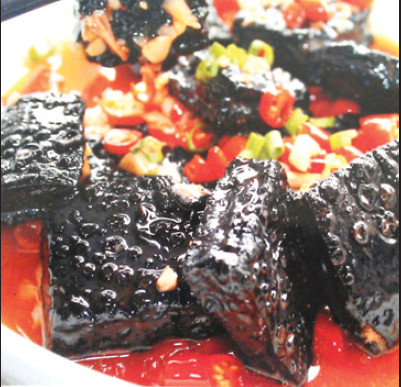 Stinky tofu. [Photo by Feng Zhiwei / China Daily]
Stinky tofu
The black fried tofu most likely tops the list of most well-known Hunan street foods because of its pungency and great taste. Many people who come to Hunan for the first time grab the opportunity to taste this local snack.
It is essentially fermented tofu, which is why it has a strong odor. It is then fried, at which time the tofu turns dark grey or black. Seasoned with red chili peppers and salted radish cubes or other locally made spices, it's served in plastic bowls at street food stands.
A restaurant called Fiery Palace, or Huodong Dian in Mandarin, in Changsha, capital of Hunan province, is widely known for its stinky tofu. Legend has it that Chairman Mao was such a big fan of the restaurant's stinky tofu that he wrote, "Huodong Dian's stinky tofu, smells stinky, tastes great".
Crawfish
This is a popular dish in the summer, when friends would gather and order a large bowl of crawfish with beer. When cooked, kou wei xia, which translates into tasty crawfish, are spicy because of the use of different seasonings, including red chili peppers, bruised ginger and green onions.