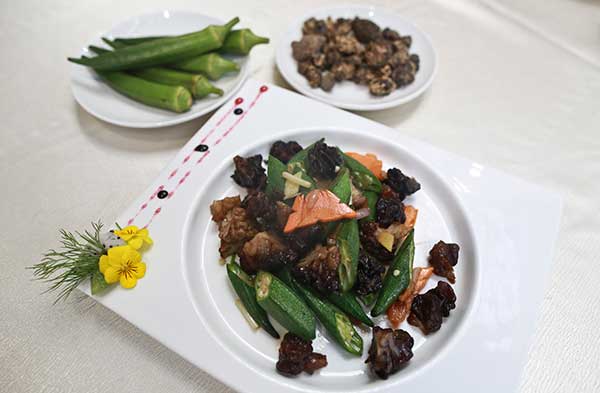 [Photo by Feng Yongbin/China Daily]
The appetizing dish had 12 kinds of seafood and vegetables, which included shrimp, squid, peppers, parsley, turnip and Chinese toon shoots.
The slices of mushroom had a crisp coating and were tender inside. They tasted even better when they grew cold, and became juicier.
Tricholoma matsutakes, or pine mushrooms-another highly valuable variety that has a distinctive spicy fragrance and meaty texture-were roasted and served on a hot plate with black garlic.
The dish looked deceptively simple-just piles of mushroom slices dressed with a handmade sauce containing black garlic, a fruity, odorless fermented garlic. The hot plate needs to be at 60-70 C, so that the temperature will intensify the mushrooms' flavor and fragrance, but not be too hot and ruin them. As the chef slowly poured the sauce onto the plate, it fizzed and buzzed, radiating a tantalizing aroma. The black garlic, common in the highlands of Yunnan and nearby provinces, tasted vinegary and doesn't cause bad breath. The white and dark-brown mushrooms tasted slightly sour and sweet.
The chef told us with regret that the pine mushrooms he cooked were frozen ones. The flavor and aroma would be fuller if they were fresh, he says, but I found them very satisfying.
For the first time, I tried "walnut mushrooms", a type that has a black curlicue stem and cap.
Wok-fried with okra, the mushroom tasted like black fungus, but was crunchier and meatier, a good match with the young, fresh okra.
I also liked the bisque with pine mushrooms, peach-flower gelatin and crab claws. Chinese caterpillar fungus is simmered in chicken stock for days until it virtually dissolves, and then the pink-colored stock is used to braise the peach resin and crab, resulting in a soup that is sticky and flavorful.
As the mushroom harvest approaches its peak, Choo says he is looking forward to making more delicacies with those earthly delights.
If you go
11:30 am-2:30 pm, 5:30-10 pm. 4/F, Crowne Plaza, northeast corner of Taiyanggong Bridge, Xibahe, Northeast Third Ring Road, Chaoyang district, Beijing. 010-64521708.