Did Marco Polo eat ice cream in China?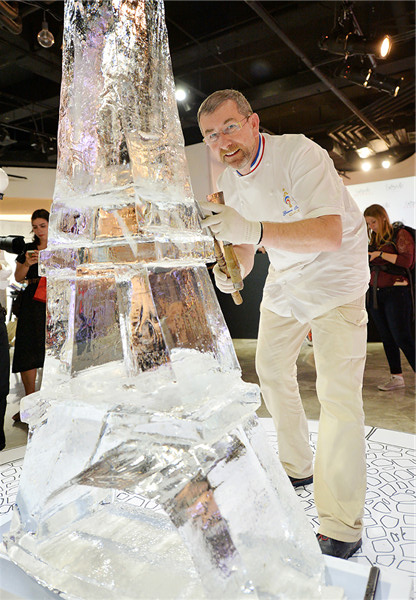 Gerard Taurin works on an Eiffel Tower ice sculpture at the opening ceremony of Beijing's Galeries Lafayette. [Photo provided to China Daily]
Where did ice cream originate? Most people suggest Morocco or Italy, but French ice-cream master Gerard Taurin says the root of this popular dessert is in ancient China, where a frozen mixture of rice and milk, made about 3,000 years ago, was documented in an ancient book he read in 2008.
Born in Normandy in 1963, Taurin has won many honors, such as the Meilleurs Ouvriers de France (Best Craftsman of France) in 2000, which is one of the highest awards for a chef in a specialized area, and the World Champion of Ice Cream and Ice Sculpting in 2003.
Last week, during the opening ceremony of Beijing's Galeries Lafayette, Taurin showcased his ice-carving skills when he created a 2-meter-high Eiffel Tower ice sculpture with his wife, and then made artistic ice cream of different flavors, including one with coconut-ginger flavor and another with wolfberries and jasmine.
"It is well-known that Italy was the first country in Europe to eat ice cream, in the 13th-century, but I assume it was Marco Polo who introduced ice cream from China," Taurin says, adding that his passion for the sweet led him on a search for its origin.
Taurin started reading extensively in 2006 to seek the historical record of ice cream. In 2010, he launched the Gastronomical Tour of the Anthropology of Ice Association, an organization dedicated to explore its origins.
Now one of the association's programs is the Ice Cream Road, and Taurin and his team are journeying from France to Morocco, China and Italy, to visit and film places that have been significant in ice-cream history, and as well as to suss out local ingredients and traditions to create new flavors.
In the past four years, Taurin has visited China a dozen times, mostly in cities along the Silk Road, because the trade route famously connected East and West. It has great local bounty and culinary traditions, the chef says.
His trips to more than 10 cities, such as Datong in Shanxi province, Dunhuang in Gansu province and Urumqi in the Xinjiang Uygur autonomous region, have inspired him to create 10 new ice creams with strong Chinese touches, using Chinese medicinal ingredients and dried fruit he encountered on his journey. Tapioca pearls, wolfberries and wild honey, artemisia and jujube, and star anise and Sichuan pepper are some of the flavors and combinations that have found their way into his creamy confections.
His favorite Chinese medicinal ingredients are wolfberries, cinnamon and seeds of eucalyptus. According to the ancient saga, the first two have warm properties, while the last is cooling, but all of them are good for health. They also have special aromas and flavors to produce delicious ice cream, Taurin says.
He often makes and shares ice cream with people on trains, and he loves doing that at interesting destinations, such as the Great Wall and the Forbidden City, and in the hutong areas.
Taurin says he was keen to participate in the opening ceremony of Beijing Galeries Lafayette because the brand-new supermarket is a good image ambassador for France. It sells some of the best products from his home country, he says, and it is a main sponsor of the ongoing Festival Croisements 2015, an annual celebration featuring Sino-French cultural exchanges.
What's next? Taurin will soon be heading to Italy on another ice-cream quest. But first, he will leave some Chinese-flavored ice-cream recipes with his new friends in Beijing.