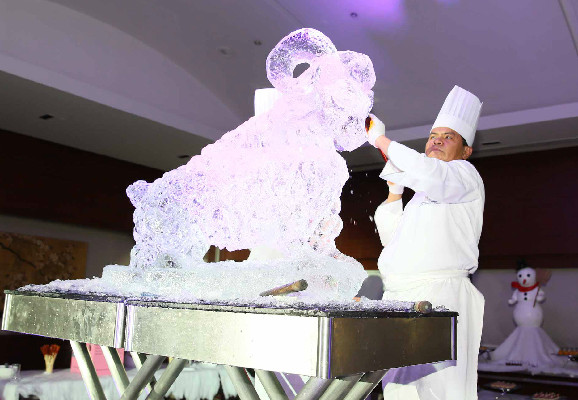 Ice artists is creating his work Sheep Live.
But in the 1980s, environmental concerns led to a ban on cutting trees.
Hernes started a new career, turning to culinary school and learning to making pastries and sweets.
A decade later, however, the hotel industry was booming in the Philippines, and there was a fresh need for people "with the right skills". Although Hernes had not formally learned ice sculpting, hotel executives from Asia to Saudi Arabia found that his woodcarving skills made him a natural.
In 1986, Winston was sent to Japan for training ice-sculpting, and eventually led a team that won a silver medal in a snow-sculpting contest in Sapporo.
"I was very proud of this victory, although ice craving was pretty new to me," Winston says. He still remembers this 3-meter-square winning piece: "a guy squatting and peeling coconuts". He has not had a chance to visit China's famous ice and snow festival in Harbin, with its building-sized carvings of ice, but he'd like to have a look sometime.
Winston has devoted himself to ice sculpture now for more than 15 years, and also doesn't have much trouble making fancy shapes out of "other stuff ": fruit, chocolate, watermelon and even butter.
"Ice is easier to carve than wood," he says, grinning. "The only challenge for me is time," he adds.
Cao Jitong, a baking specialist from Beijing Sun Helen Bakery School, spent eight years with Hernes making culinary art at the Kempinski hotel, and more than 30 years in the trade.