Zhang Yuhan, a sculptor from Karamay, won the gold medal with her gold silk jade work "Harvest" at the Guangzhou Art and Craft Exhibition on Jan 16.
This was Zhang's sixth time to win a gold medal for jade carving. All her designs were made, using gold silk jade, a special local product in Karamay, Xinjiang Uygur autonomous region. Zhang said his entries were designed with the idea of promoting her hometown and its rich resources.
Zhang is now a graduate student at Guangzhou University, majoring in jade carving. She plans to go back to Karamay after graduation and open an art studio to help boost local jade carving industry.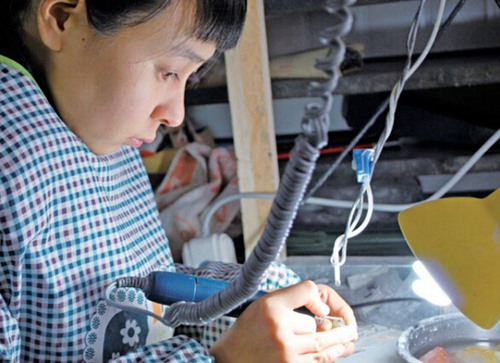 Zhang Yuhan carves a piece of gold silk jade. [Photo/epaper.kelamayi.com.cn]
Edited by Mevlut Katik