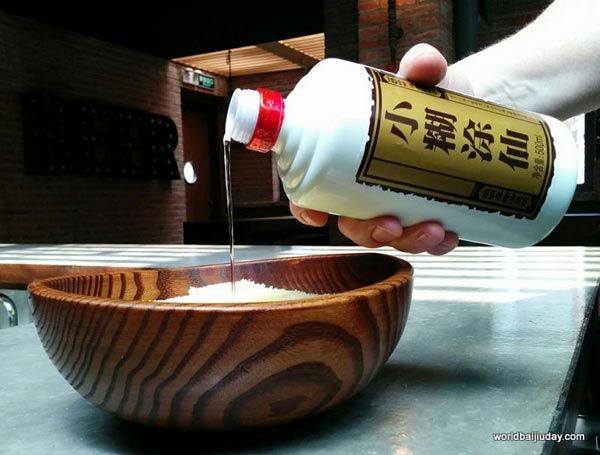 Shots, cocktails and even "deep-fried baijiu" are among the offerings for World Baijiu Day. [Photo provided to China Daily]
Its effect on non-Chinese has been described as "deadly powerful-exploding on the nose and palate, and packing the same alcoholic punch as a prizefighter". But fans of baijiu, China's popular white spirit, are convinced it has a place on the shelves of bars around the world, and they hope to be proved right on Aug 8.
That's the date for World Baijiu Day, a series of events designed to show drinkers everywhere how to enjoy the world's most-consumed alcoholic beverage, says Jim Boyce, the Beijing wine and nightlife blogger who is organizing the event.
Baijiu is little-known abroad, Boyce says, but that is starting to change.
"Large global drinks companies have invested in major brands. Distilleries are starting up overseas, including in New Zealand and the United States, and a growing number of bartenders are experimenting with baijiu," he adds.
"The past year has seen the opening of baijiu bars in Beijing and New York, and a Baijiu Cocktail Week that involved nine venues in London during Chinese New Year."
The London venues included bars co-owned by Paul Mathew, the cocktail consultant who developed an appreciation for baijiu while working in Beijing. Mathew experimented widely with baijiu cocktails at bars and restaurants, such as the capital's Flamme, during his four-year stint in China.
"I still find some of the flavors challenging," he told Boyce on the blog at Worldbaijiuday.com. "But it's easier to appreciate the sweet, floral and fruity characteristics now without the surprise that first-time baijiu drinkers face."
The year 2014 also saw Penguin's publication of Baijiu: The Essential Guide to Chinese Spirits, by US author Derek Sandhouse, which began as a blog that followed his experiment "to drink 300 shots of the stuff".
There is a place for baijiu on the shelves of bars around the world, Sandhouse insists in his introduction, "somewhere between tequila and slivovice".
While Chinese traditionally knock back their favorite brand of white spirit in shots, with a chorus of "Ganbei!", World Baijiu Day will also feature baijiu-inspired cocktails, infusions, liqueurs and beers. So far, organizer Boyce says, venues in seven cities are confirmed, including three in Beijing:
Golden Monkey, a cocktail bar and restaurant in Melbourne, Australia, with many China-inspired dishes and drinks.
The Hide, one of the London bars co-owned by Paul Mathew.
Lumos, the only cocktail operation in New York that is focused solely on baijiu.
Peking Tavern, a bar and restaurant in Los Angeles that specializes in street food and drinks inspired by northern China.
Capital Spirits, a baijiu-focused bar in Beijing that offers flights of different baijiu styles and brands.
Jing-A Taproom, a craft brewery and pub in Beijing that plans to use qu, the fermentation agent for baijiu, to make a specialty beer.
The Schoolhouse at Mutianyu, a restaurant and lodge project in Beijing's suburbs near the base of the Great Wall, that produces baijiu-based liqueurs.
Mott 32, which recently won media accolades as the top baijiu spot in Hong Kong.
R&D Cocktail Lab, a Taipei venue that is dedicated to alcohol experimentation. It will feature kaoliang, the baijiu most associated with Taiwan.
Boyce says he expects to add more participants in cities around the world in the coming weeks.