China' baijiu brands gather to relive 1915 Panama glory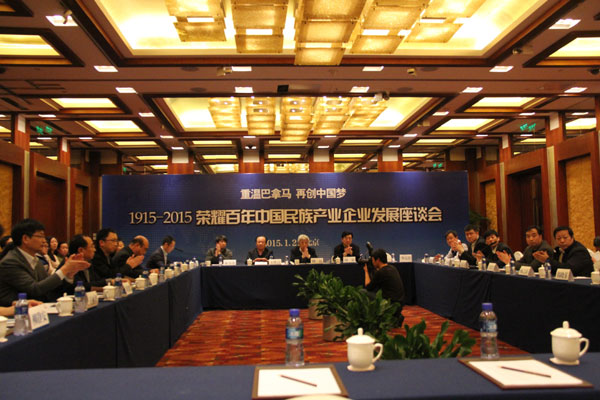 [Photo provided to chinadaily.com.cn]
Jan 20, 2015 - Top managers from China's national white liquor brands gathered in the country's capital, Beijing, to celebrate the centenary of the 1915 Panama Pacific Interactional Exposition.
The celebration took place in the form of a seminar, in which participating members from some of the most well-known baijiu brands, such as Shanxi Fenjiu and Henshui Laobaigan, shared their vision of the development of the country's traditional national brands.
The 1915 Panama Pacific Interactional Exposition was held in San Francisco in the US. The fair, which celebrated the completion of the Panama Canal, ran for over nine months and attracted 31 participating countries. The Chinese delegation stood out by winning 1,200 medals, which ranked the group as the top champion among all participants.
It is noteworthy that it was traditional Chinese cultural gems such as silk, tea and white liquor that helped gain so much acclaim. This was widely seen as the first time products "made in China" went international, from then on, what the outside world viewed as "ancient China" started to unveil its mysteries and opened itself to the modern world.
The focus of the seminar was centered around how China's domestic brands can better integrate into the world. "The development of national brands is also a process of cultural inheritance and innovation, the glorious achievement means that Chinese culture is becoming popular. The internationalization of domestic brands should use culture as a competitive edge and embody the essence of Chinese culture into the products", one speaker said.
The event was organized by the China Business Culture Research Institution、the US-China Business & Culture Association and China Wine News Media. The hosts will go to America on Jan 22 to hold several other celebration activities to commemorate the 1915 Panama expo, which will mainly include discussion of the development of national brands in the next 100 years.