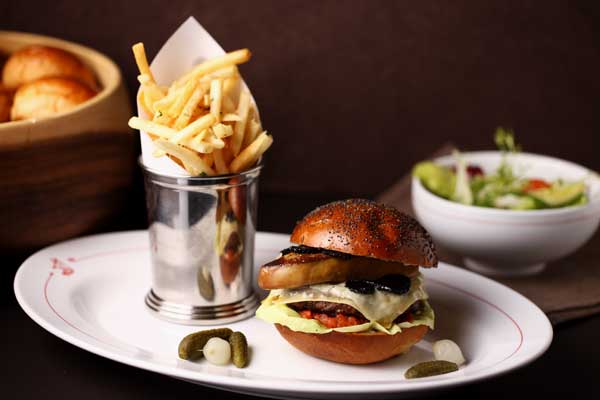 Bistrot B features a variety of treats including the foie fras burger, a pate maison with artisanal mustard and the roast lamb shank. Photo provided to China Daily
Respectable portions start with starters. The charcuterie board is a generous sampling that includes a Verbiak trademark, a pate maison with artisanal mustard. You can also order that hearty, coarse, country-style pate a la carte-or opt for smoother turns of liver: a silky chicken-liver mousse or a foie gras au torchon with a dollop of lively spiced fig confit on the side.
At a recent lunch, the "roast of the day" was lamb leg, which was beautifully seasoned, sliced and served in a bean cassoulet. Olives gave the dish a bright, briny edge. Served with a farm-style salad, the daily special is 140 yuan ($22.50)-a mere bagatelle for such a savory feast.
Stars of the dinner menu include steak frites, duck-leg confit with cassoulet beans, Moroccan-style Merguez grilled lamb chops and the slow-baked black cod with bacon-wrapped endive and truffle au jus. Lighter appetites may be tempted by the superb Angus burger with cheddar cheese, crispy onions and smoked bacon-or its flossier cousin, the Wagyu beef burger with foie gras, black truffles and comte cheese. The spicy Merguez lamb is also available on a sandwich.
The restaurant boasts an extensive wine list and a shorter selection on the daily menu, including a smooth but robust bruciato that makes any accompanying red meat sit up and sing.
Still to come: The restaurant will open its outdoor courtyard soon, and there are plans for a Sunday brunch. As the hotel's soft-opening evolves, look for a hotpot restaurant next month.
If you go
Bistrot B
Rosewood Hotel, Jing Guang Center, Hujialou, Chaoyang district, Beijing. 010-6597-8888