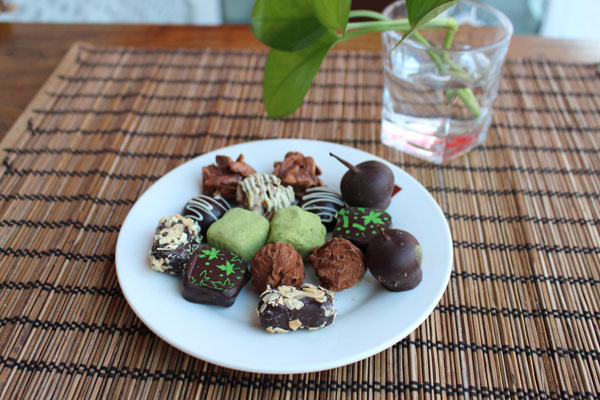 Japanese chocolate master Sugita Tsyguo's handmade artisan chocolates and cakes. [Photo provided to China Daily]
The shop's signature product is orange-peel chocolate, dark Belgian chocolate with sugar-pickled orange peels inside. The fingerlike candies taste soft, smooth and sweet at first bite, and then the citrus flavor of the crunchy peels inside the rich candy brings a fresh sensation to the taste buds.
Orange peels not only taste good, Sugita says, but also are beneficial to health.
Practitioners of traditional Chinese medicine uses them to treat coughs and digestive-tract discomforts. The peels are pickled in sugar for hours, following a secret formula Sugita modified from a French recipe.
Sugita was born in Japan's Shizuoka prefecture in 1945, and became fascinated with chocolate as a child.
"I got my first chocolate from an American soldier stationed in Japan after World War II - a Hershey bar!" he recalls with a grin.
In 1969, he went to France and spent a year as an apprentice at an artisan chocolate shop. Then he moved on to Switzerland to learn more about making chocolate by hand in a vocational school. At age 30, he returned to his home country, and started Aux Delices, a handmade chocolate-shop chain.
Business was bad at the beginning because eating handmade chocolate wasn't familiar to Japanese people, who were more familiar with mass-produced products such as Hershey bars.
But starting in the late 1970s, as more Japanese people fell in love with the taste and health benefits of handmade chocolate, he says, the company's business has continued prospering. It has also begun to sell imported raw chocolate-making materials.