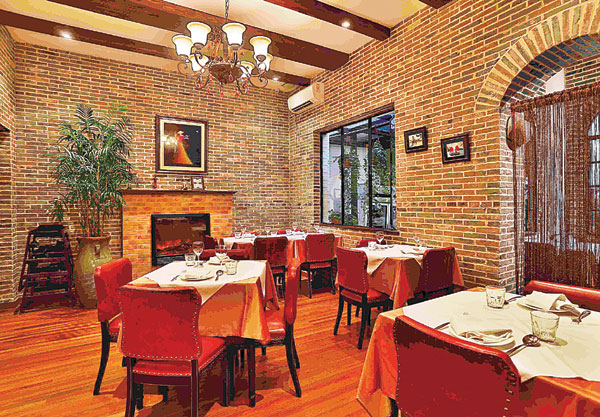 [Photo provided to Shanghai Star]
Today Pho Co has a total of 120 covers, which also takes in the glass-enclosed, garden annex that has proved particularly popular since the eatery opened in June 2013. And as for the food itself, Linda and her team have gone straight to the "source", with two of the kitchen staff — including head chef Mark Hong — being Vietnam natives. Linda travelled to Hanoi to interview for the posts and declares herself more than happy with the results. (Pho Co is named after the old quarter of Hanoi - literally "old streets" — now a bustling tourist spot.)
"Our menu is more heavily influenced by northern Vietnamese cuisine, because that's where our chefs are from," said Linda. "And because Vietnam has a very long coastline, fish and seafood naturally feature prominently on the menu."
Pho Co is keen to disprove the notion that Vietnamese cuisine is nothing more than pho beef and spring rolls, and among the menu's marine delights are the Green Papaya Salad with Shrimp (45 yuan), Hanoi Featured five-flavor Mandarin Fish (188 yuan) and the Shrimp Soup in Whole Coconut (68 yuan).In this way the menu also discounts the idea of Vietnamese as comprising only fast food of the type that can be readily picked up in noodle joints.
Still, creating main-course Vietnamese dishes has its challenges, and while the dishes adhere to the original recipes as closely as possible, Linda admits it isn't always easy to get the same kind of fresh herbs that grow naturally in Vietnam's more tropical climates.
And although China has a shared border with its southern neighbor, Linda notes that it's generally Westerners who are more familiar with the dishes on offer when they first visit.
"It's also my passion to give customers an idea of the philosophy of Vietnamese cuisine, as well as showing them its rich variety," she added.
IF YOU GO
Pho Co, 920, Lane 1, Changle Road, near Changshu Road.
Call 5289-6275 for more information.