Mixing it up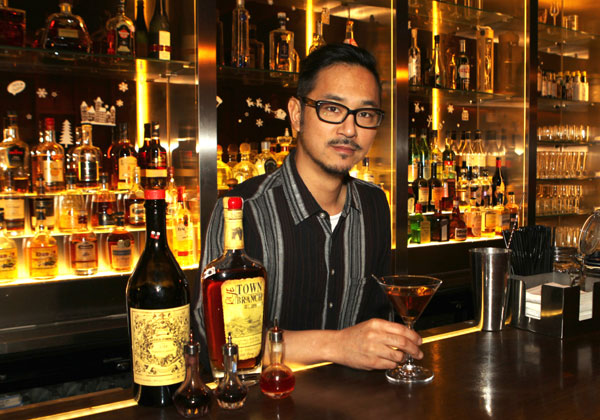 He studied old illustrated recipe books to lay the foundation for his cocktails. [Photo by Zou Hong/China Daily]
Mainland roots
A combination of politics and music brought Lee to China.
His family had fled to Taiwan in 1949-"my dad was on the last plane from Shanghai," he says. Leon was born in Taiwan, but the family soon settled in San Francisco.
In 2000, when Leon was 28, the Lees celebrated his dad's 68th birthday with a return trip to the mainland, a 14-day swing through Beijing, Shanghai, Hangzhou and Xi'an. "I was out all the time, looking for the clubs, the music, what young people were doing," he says.
Fine art seemed on the way up. Music not so much. "But I thought: 'I like this thing that China is becoming'," he adds.
Lee went back home where he'd been active organizing art exhibitions and film festivals-arriving in the Bay Area just in time for the dot-com bust.
So he pursued and won fellowships at Peking University and Fudan University in Shanghai, but his heart was with the capital scene. By the time he arrived in Beijing in 2004, he was well-prepared.
"I'd been playing music and curating art shows and exhibitions with mainland artists who'd come to San Francisco," he says.
He used his background to seek grants for folk, indigenous and world music productions. Soon Lee was developing a new theater at 798 with all kinds of shows, master classes, workshops-but no drinks.
"We established residencies up to 14 days. The goal was to incubate new work based on their China visits."
What he calls his most rewarding experience in China soon followed: forming SambAsia, a Brazilian folk music troupe that started with classes of about 25 to 30 and grew to around 200.