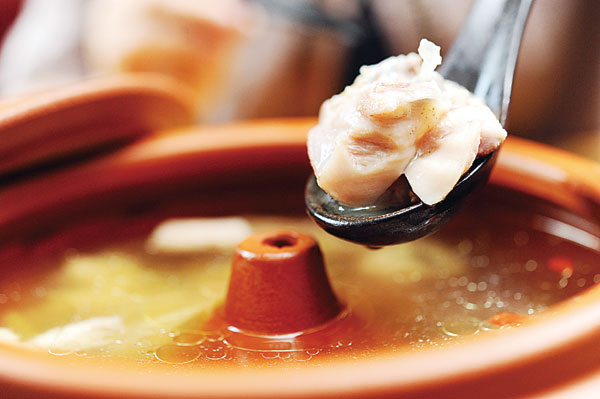 Winter warmer: Hotpot chicken soup [Photo provided to Shanghai Star]
The bomb squad is the steamy and hot chicken pot soup. The warm, amber-colored, crystal-clear soup works like a pacifier to the stomach, soothing away the winter doldrums and the growing appetite, until the aromatic black truffle fried rice sneaks onto the table.
For something veggie, try Grandma's yam, not only because of the beautiful story from Yunnan behind the dish, but also its flavorful taste, similar to mashed potatoes but with a salty flavor.
Folklore has it that there is a grandmother who lives alone in one of the remote mountainous areas of Yunnan and feeds herself nothing but the yam, as it can be stored for a very long time without deteriorating.
For dessert, we order the sweet mango with sticky rice and coconut ice cream. It's a little bit disappointing to close the meal with an almost staple dessert that can be found in not only every Thai or Yunnan restaurant in town, but also at many of the chain dessert stands.
It's like hearing James Blunt's You're Beautiful at a wedding, or watching a Woody Allen film with a happy ending. Nothing wrong with it, just a little too predictable.
But upon eating a spoonful of the super fresh mango, topped with steaming sticky rice and dripping with melted coconut ice cream, it's hard not to be transported elsewhere: say, a small, secluded beach in Thailand, where as my taste buds are enjoying the dessert, my muffin top is relishing the sunshine and sea.
IF YOU GO
Yun & Lanna
Add: 9 Dongping Road, near Hengshan Road, Xuhui district
Tel: 021-6473-1021
Average cost per head: 150 yuan