Toning up with herbals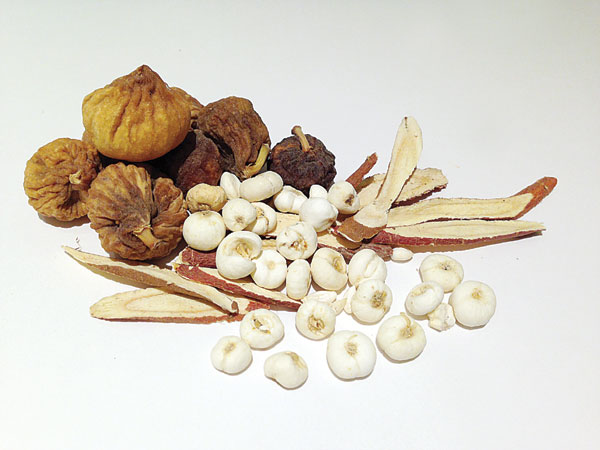 Restoratives: Radix Astralagus, wolfberries and Radix Codonopsis. Dried figs, liquorice roots and fritillary bulbs. [Photo provided to Shanghai Star]
As autumn approaches, the lotus roots are mature and mealy and perfect simmered with pork ribs. In winter, the soups get more robust, and while the chef cannot serve it at his restaurants, he recommends a snake soup, a Hong Kong hometown specialty.
"The snakes get fat in autumn to prepare for winter hibernation. Snake meat warms the body, especially when it is cooked with shredded chicken, slivered citrus leaves, citrus peel, chrysanthemum petals, black jelly fungus …" Ng's eyes glazes slightly in remembrance of his New Territories' memories, where he grew up.
The soups are very often sprinkled with herbal or tonic additions. For example, the winter melon soup has Chinese ham and mushroom added for extra nutrition.
Watercress is often cooked with sweet and bitter apricot kernels, because these soothe the lungs and eases coughing, a common complaint in that period between winter and spring.
Lotus roots are from the lakes and cooling, so large candied dates are added to the soup to take the chill off and to add some restorative calories.
Herbal cuisine, or yaoshan, is a specialist branch of Chinese cuisine. Unfortunately in modern day China, official food regulations have somewhat victimized its existence, mainly because of lack of concrete medical laboratory data, in spite of its long history and strong grassroots belief.
Very few restaurants can offer herbal cuisine as a main draw, and chefs can only insert the dishes into their menus in the hope that diners know their stuff. There is no need for such surreptitious tactics in the home kitchens.
Every grandmother, mother or maiden aunt in China has a few secret recipes guaranteed to restore the weak, the ill or the recuperating patient.
In every market or supermarket, you can easily walk in, gather the herbs you need and return to the kitchen to prepare a restorative banquet. These are some of the herbs we have gathered for your instant boosters during winter.