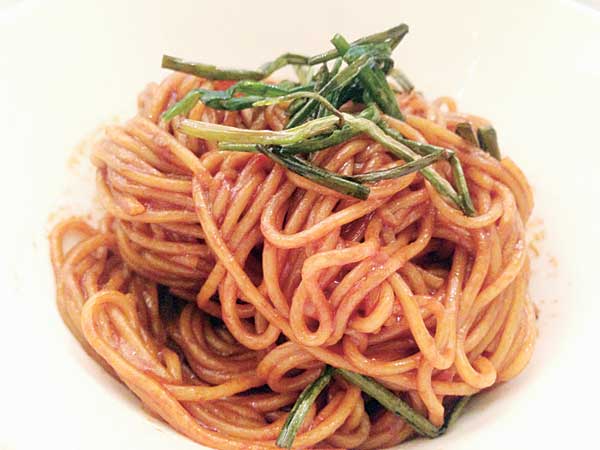 Noodles tossed in scallion oil [Photo provided to Shanghai Star]
It is a satisfying bowl that will delight every Shanghai native. For me, it brought back memories of a childhood breakfast — scallion noodles shared every morning with my grandfather.
The Cantonese in me took over as we carefully bit into a ping pong-sized sesame encrusted ball. We had been warned that the liquid custard inside would be scalding hot.
If I had to vote for the best tasting dim sum of the day, it would be this. The crisp sesame crust contrasted with the soft sticky dough it coated, and the salty-sweet custard was perfectly flavored, its lava-like texture complementing the crunchy crust.
The chef says we are in good company. The owner of the hotel, a real estate developer from Ningbo, is so fond of the sesame balls that he orders take-away every time.
Another delightful surprise was the chef's steamed dumplings topped with shaved truffles.
Its clear wrapping showed off the assorted mushrooms used for the filling, and you cannot ignore the tiny pile of truffles sitting on top.