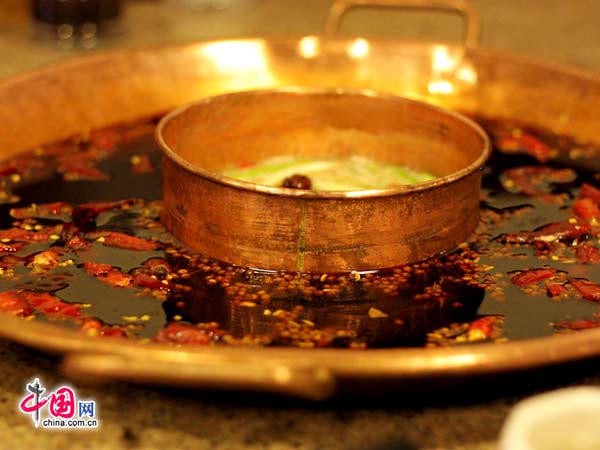 Don't make the mistake that only star-rated restaurants offer the best dishes there are to be had, many ordinary or small restaurants provide tasty Sichuan cuisine. Not only are these locations less expensive, but they also are a delightful variety of snacks. [Photo/china.com.cn]
This is a typical Chinese hotpot—steaming with two divided sections or flavors. One comes with a spicy oil base filled with ingredients like flower peppers and watercress for the adventurous, and the other type, (if you are like me) is just the standard light flavored broth. We ordered mostly veggies (vegetables) here but of course you can also order many different types of meat.
Each Sichuan hotpot restaurant has its own style and secret recipe. And many say the hotpot experience is not just about eating. It is a close gathering and the shared experience of cooking around a boiling pot.
"The hotpot eliminates the extra body moisture, it is very comfortable to talk and eat in this environment with friends and families." a guest said.
Each type of food in China depicts culture and history unique to its local place; Sichuan food embodies over 5,000 years of history, and just like its spicy hotpot, leaves an impression of a people full of vigor and personality.