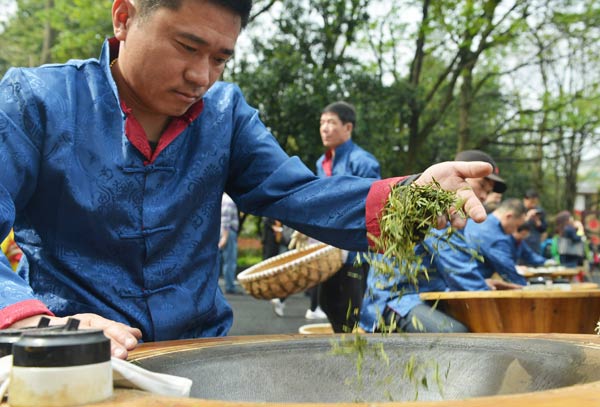 A farmer dries Longjing tea leaves, which used to sell for as much as 360,000 yuan ($58,000) per kilogram.
Fang said that normally, she would have sold 100 to 150 kg of early batch of spring tea by this time, but this year, only 35 kg were sold.
Longjing tea from Hangzhou is not the only kind of green tea suffering from shrinking market demand for its high-end early spring batch.
In the Maliandao tea market, one of the largest tea trading markets in Beijing, spring green tea from Sichuan, Fujian and Yunnan provinces are seeing price declines as well.
Green tea from Yibin of Sichuan province, for example, sells at 1,200 yuan per kg, while the price last year was 6,000 yuan.
Zheng Li, a saleswoman at Xinghua Tea Shop inside the market, said the high-end green tea is no longer a hot seller in the store.
"Years ago, people were after high-priced early-spring tea. With the decreased spending from officials, green tea with good quality but reasonable prices are more welcomed," she said.
Zheng said that although there are various kinds of green teas from different provinces, it is a common trend that prices have dropped at least 30 percent for each kind. Gift-wrapped tea boxes that are above 1,000 yuan are difficult to find in the market this year.
"Tea boxes priced 200 yuan to 500 yuan are the most welcome ones," Zheng said.