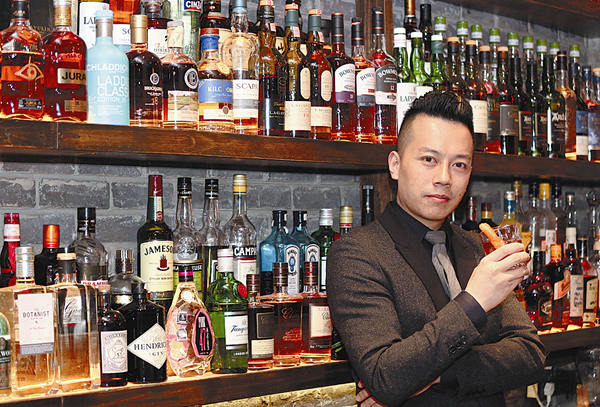 Xiao Ming, owner of Hidden House, is a big fan of Western bar culture. [Photo by Parker Zheng/China Daily]
Lyu Dongming considers himself something of an odd duck.
The Chinese small-bar entrepreneur known as Xiao Ming is a big fan of Western bar culture, despite never having set foot in the United States or Europe. But he has seen the movies, and - unlike his Chinese friends who like bars that are loud and punctuated by the sounds of video games - Xiao Ming is entranced by snug drinkeries that invite quiet conversation.
"There aren't so many places like this in Chinese cities," says the onetime bartender at Fu Bar who has just opened a third bar of his own, Hidden House, in Beijing's hopping Sanlitun area.
He's entranced by the subversive appeal of the "speakeasy", the hidden bars that became famous during Prohibition in 1930s America. Inside the discreet street entry of a glassware shop, he's installed a secret door: Those in the know can push a switch, and a bookcase quietly slides into the adjacent wall to allow admission to the intimate bar area of Hidden House. Even the address is discreet, simply given as "200 meters north of Jingkelong, Xindong Lu (Road)". (Walk south for one minute from the James Joyce, the nearest reference point that similarly houses fine distillations.)
Behind Xiao Ming at the bar is a vast glass wall of the eminently imbibable - premium single malts, crystalline vodkas and some favorite rum that is making him smile right now from ear to ear.
"No fake liquor", he says proudly.
Fans of his first boutique bar, Revolution, will find this one a little bigger but still very cozy, perfect for quiet chats or perhaps what a French novelist famously called les liaisons dangereuses. In the table area, booths are sectioned by smart replicas of yaodong, the walls of traditional houses that he saw built into the hills of Yan'an. It's a bricks-and-mortar look that evokes an old city wall.
"I like old Chinese buildings and architecture," he says, waving a hand through one of the archways.
"I haven't been to the West so I don't really know the building and architecture styles over there so well. So I've done what I know and like. This is a look that makes people feel comfortable and secure, just as those old walls did."
As he talks, he's making a mai tai - his way, with fresh lemon juice and a bit of mint to freshen up the mix of light rum and triple sec, before topping it off with a splash of dark rum. There's a hint of almond liqueur, too.
Another rum cocktail, the Peking City, embraces chartreuse, honey and lemon juice - and flaunts a sassy garnish of rosemary.
In his vest and tie, Ming has the aura of a dandy. But while he has a fetish for the old bar culture of the United States and United Kingdom, behind the bar he is an apostle of Paul Mathew, the bar guru who recently went home to London after several years of launching bars around China.
"He taught me to try everything, have my own style," Ming says. "He used all kinds of things, including baijiu (traditional Chinese liquor) - no restrictions. He was very customer-friendly."
So is his protege, who is happy to sit down with customers who feel chatty - or leave in peace a customer who simply wants to sit and read the paper. That is, once he's matched each one with the perfect cocktail.
If you go:
Hidden House
Xindong Lu (Road), 200 meters north of Jingkelong, Chaoyang district, Beijing. 010-8418-5718.