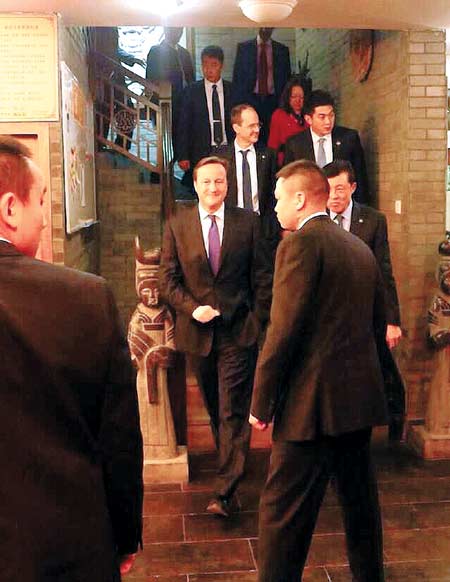 British Prime Minister David Cameron enjoys Sichuan's famous spicy hot pot at Xiangtianxia restaurant during his visit to Chengdu in December 2013. [Photo/China Daily]
His table of diners also ordered beef, lamb, bean curd, lotus roots and cabbage for the hot pot, washed down by the restaurant's home-brewed beer. He didn't order the locally popular beef giblet. But he bought a pack of local green tea.
Cameron's table spent 877 yuan ($141), including 436 yuan on food. That's a relatively cheap meal, considering they also drank beer.
US Vice-President Joe Biden was even thriftier. He spent 79 yuan at Yao's Chaogan'er Restaurant near the Drum and Bell towers in August 2011.
He ordered pork buns, zhajiang (fried brown-bean sauce) noodles and cucumber salad, and two colas. But he didn't sample the liver stew that is the eatery's signature dish.
While Western leaders are treated to refined feasts at state banquets, most otherwise enjoy inexpensive archetypal Chinese dishes.
That has been the trend in China, too. Chinese leader Xi Jinping spent 21 yuan on stuffed buns at a Beijing restaurant last December.
He also treated visiting Kuomintang honorary chairman Lien Chan at the Diaoyutai State Guesthouse to a "home banquet" of Shaanxi noodles, flatbread in lamb soup and sliced cake with mashed pork filling on Feb 18.
These are inexpensive but typical Shaanxi foods, suitable because both Lien and Xi are from Shaanxi province.
That created a new 58-yuan "presidential set menu" in Shaanxi's capital city Xi'an.
Ultimately, the tendency of leaders to opt for relatively ordinary local fare seems to point to a desire-if not a means-to connect with everyday locals.
Consequently, the dinner table has become a platform for the world's elite to relate with ordinary folks.