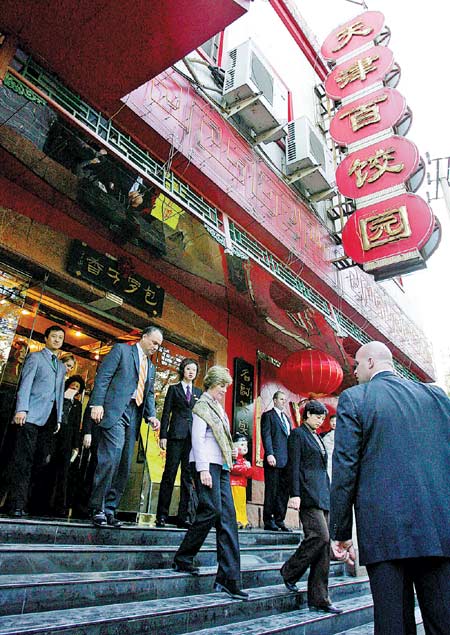 Former first lady Laura Bush (center) walks out of the Tianjin Baijiaoyuan restaurant where she ate lunch in Beijing in November 2005. [Photo/China Daily]
State banquets are prepared by some of the country's best chefs.
They need to consider not only food quality but also guests' religion, ethnicity, eating habits and, sometimes, health.
Chefs deliberate ingredients' health benefits, nutrition and seasonality.
Much of the porcelain tableware is specially produced by Jiangxi province's Jingdezhen, which is celebrated for fine porcelain.
State banquets usually feature dishes that represent the best of Chinese cuisine.
In October 1986, Deng Xiaoping treated Queen Elizabeth II to "Buddha jumps over the wall" soup. The famous Fujian specialty has more than a century of history and contains up to 20 kinds of seafood and poultry, simmered for hours or days.
It's said former US presidents George Bush and Ronald Reagan loved the soup.
Chinese leaders sometimes introduce their personal favorites at state banquets.
Deng is said to have adored cuttlefish-roe soup, a spicy and sour delicacy hailing from traditional Shandong cuisine. As a result, the warming soup became a regular fixture of state banquets.
It's commonplace for visiting leaders to try Peking roast duck, Beijing's premium culinary icon.
Many dine on duck at Quanjude, an eatery dating to 1864.
The walls of Quanjude's Hepingmen branch have many photos of visiting foreign leaders on the restaurant's second to fourth floors. Among them are former US president Richard Nixon and his national security adviser Henry Kissinger.
Another restaurant Chinese leaders often invite foreign leaders to is Sichuan Fandian, which serves classic Sichuanese cuisine.
Former French president Jacques Chirac's photo is one of many leaders' portraits on the restaurants' walls. The president of a nation renowned for its gourmet offerings visited China at least five times-as Paris' mayor, and as the country's prime minister and president-from 1978-2006.
On Oct 25, 2006, Chirac dined at Tiandi (Heaven and Earth) restaurant in Beijing. The restaurant (now closed) on Nanchizi Dajie (Street) was opposite Tai Miao, the Royal Ancestral Temple.
Chirac made it a point to eat from communal serving plates per Chinese custom, the restaurant's executive chef Yu Li says.
Four Chinese chefs presented six cold dishes, a soup, six hot dishes and three desserts, representing cuisines from Beijing, Shanghai, Guangdong and Jiangsu.
Chirac started with traditional Beijing dim sum. Then he tried Peking duck, quick-fried king prawns, spicy and sour cuttlefish-roe soup with coriander and seasonal stir-fried hairy crab roe with French toast, accompanied by French burgundy.
When he visited Sichuan's provincial capital Chengdu in 2004, he had northern Sichuan starch-noodles and dandan noodles for breakfast, both of which are spicy.
British Prime Minister David Cameron also chose Sichuan's famous spicy hot pot when he visited Chengdu on Dec 4, 2013.
Xiangtianxia hot pot restaurant's sales manager Cao Jing says the prime minister was "very capable of eating spicy foods". He liked the mushroom platter, and ordered two additional plates of coriander meatballs.