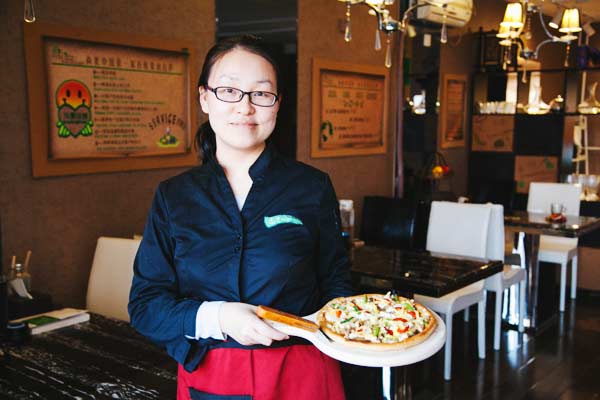 Zhang Shenghuan opened a vegan pizza parlor in Beijing. She believes that eating less meat is good for the environment. [Photo by Fan Zhen / China Daily]
One of the most important ways to reduce pollution is to take recycling seriously. Fan Zhen talks to two restaurant owners who are putting their money where their mouth is.
After cold fronts lifted the dense smog that had blanketed Beijing for over a week earlier this month, the city finally returned to normal, its ancient glazed tiles and modern glass walls shimmering against an azure sky.
But under all that hustle and bustle, things are changing.
There is a growing awareness among Beijing residents that have been jolted out of their complacency by the severe pollution and they realize that they have to take the initiative to have a more sustainable lifestyle to reduce waste and to limit emissions.
The first step, for some, is to start with reducing and recycling their kitchen waste.
One such individual is Zhang Shenghuan, who has recently opened a vegan pizza parlor in Beijing's CBD area-Shangsu Pizza.
"I set the theme as L-O-V-E: low-carbon, organic, vegan, environmentally friendly," she says. "Instead of a commercial slogan, this requires actual work."
She decided to narrow her menu to a vegan one because she believes that to reduce the human impact on the environment, the simplest and cheapest thing anyone can do is to eat less meat.
"Behind most of the joints of beef or chicken on our plates is a phenomenally wasteful, land-and energy-hungry system of farming that devastates forests and pollutes oceans, rivers, seas and air, is dependent on oil and coal, and is significantly responsible for climate change."
She saves vegetable leftovers and sends them to local farms to be turned into natural fertilizers.
She does not want to throw them into the garbage because the trash bins in her community are only divided into recyclable and non-recyclable.
Most food waste, mixed with their packaging, will eventually reach landfills where it rots and creates methane, a potent greenhouse gas that traps 34 times more heat in the atmosphere per century than carbon dioxide.
Besides, "waste" is not actually waste in Zhang's kitchen. She uses the peels and pulp of fruits such as oranges and pineapples to make a garbage enzyme, a natural solution that canbeused for cleaning as well as fertilizing.