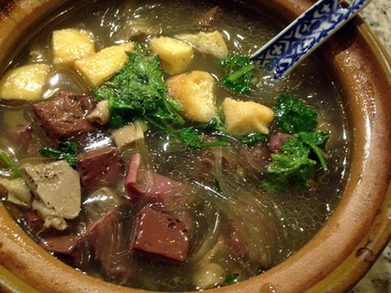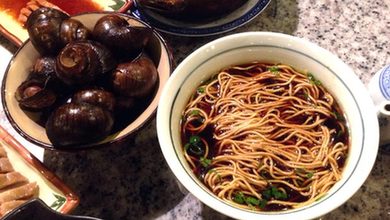 Duck's-blood glass noodles (top) and Yangchun noodles (above right) are two popular dishes at successful franchise Nanjing Dapaidang. Photos by Pauline D. Loh / China Daily 
Long before we left on the high-speed train, friends were telling us exactly where and what to eat in Nanjing. Their advice came tinged with passion and nostalgia as they eagerly shared favorite foods and places to dine.
Duck's-blood glass noodles was the most often recommended dish, and it seems to be the street food most associated with this city south of the Yangtze. Giving it a good run for its money was the next suggestion, fragrant tofu scented with five-spice and named after the orchid.
Above all, almost everyone said the best place to go to sample these local temptations was Nanjing Dapaidang, a successful franchise with many outlets all over the city, but with a very picturesque branch right by the Confucian Temple alongside the Qinhuai River.
That was where we decided to go. It was soon clear we were not the only tourists after a bowl of genuine black pudding noodles. Our taxi driver knew exactly where we wanted to go and after a practiced glance backwards, started telling us the best spots in Nanjing to sightsee.
Our gregarious cabbie deposited us in front of the restaurant, and we were immediately impressed by the facade. Double rows of wax-paper lanterns lighted the entrance, and we were greeted by two gentlemen in Mandarin dress and quickly led to a table.
More wax-paper lanterns hung from the ceiling of the packed dining hall and they basically showed off the entire menu, with the names of dishes written on them in classic calligraphy. More conventional menus are also available tableside.
We ordered the duck's-blood noodles, of course, followed by a bowl of braised pig tails and peanuts, a platter of orchid tofu and another bowl of noodles, this time named after the spring sunshine or yangchun.
No gourmet gathering in Nanjing would be complete without the classic steamed buns delicately harboring pools of delicious meat juices. This is the tangbao, or soup dumplings. You have to be very careful biting into the piping-hot buns, or risk burning your tongue when the hot juices spurt.