An ode to good food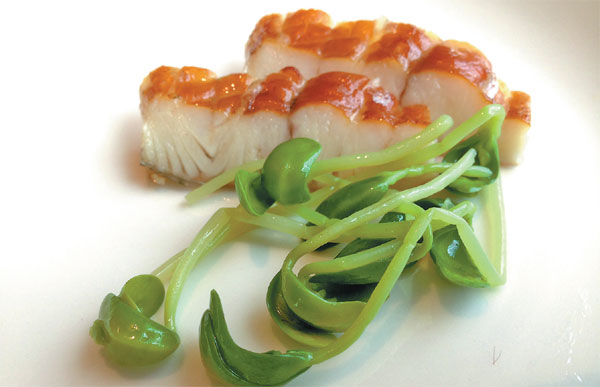 At Richesse Chinoise, subtly smoked fish is paired with sprouts grown from black beans. Photos by Pauline D. Loh / China Daily
Fresh flavors and artful kitchen skills combine to make the food of the Yangtze region a universal favorite even among Chinese gourmets stubbornly faithful to their home cuisines. Pauline D. Loh explores the reasons why.
There is a vegetable that grows along the rivers and lakes in Jiangsu that makes grown men cry when they remember its taste. It is a weed, a species of mugwort that used to grow wild abundantly, but is now mostly cultivated.
Luhao, or water Artemisia, is valued for its sweet crunchiness. Only the stems are used, and they are stir-fried, usually with delicate batons of the region's equally famous five-spiced hard beancurd.
Some have compared the taste of luhao to asparagus, only immensely more subtle.
Subtlety is a signature of Huaiyang food as the collective cuisine of the region is known, and luhao is only one of the many ingredients that reflect this style of eating and cooking.
At Richesse Chinoise, the Chinese restaurant in the Fairmont Nanjing, the Huaiyang chefs pride themselves in continuing the tradition of using only the freshest, seasonal ingredients. They took me to market to show me exactly how much it mattered.
Chef Meng Xianfeng is an experienced Huaiyang chef schooled in the traditional kitchen and his eagle eye roamed over the gathered produce with radar precision.
We visited shops offering tubs of wriggling river eels, and he tells me what is best for which dish. There are fresh abalones, sea cucumbers and huge river clams to make a milky sweet broth, bullfrogs that weigh in at about a kilogram each, and fishes like the ubiquitous crucian carp, snakehead and the much rarer and more expensive mandarin fish.