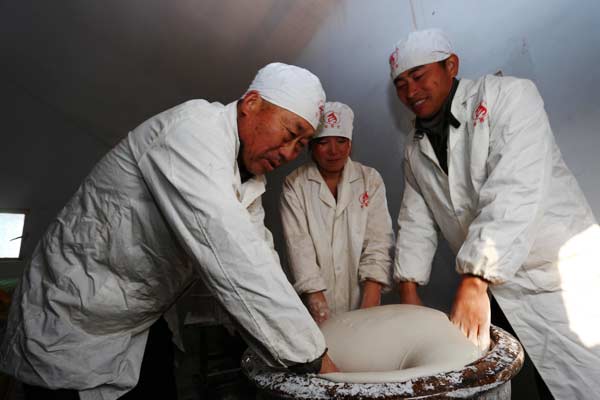 Cai Daoxian(L), heir to the craft of handmade noodles made from sweet potato starch, shows how to make noodles in Dongmiao village, Anhui province. The craft has been passed down in Cai's family for eight generations. [Photo/Asianewsphoto]
Hongshufensi is a kind of cellophane vermicelli made from sweet potato starch. Legend has it that during a famine in the 1800s people had nothing to eat. They used all the mung beans and sweet potatoes left at home to make starch, mixed it with boiling water and sifted it through a big slotted spoon into noodles. The handcrafted method of noodle making has been passed down ever since.
Cai insists that the noodles should always be hand made to preserve the authentic taste and the traditional craft. He founded the local producers cooperative for noodles in 2007. The group has grown to include 450 families who practice the traditional art, which also is an economic driving force in the village.