Presidential seal of approval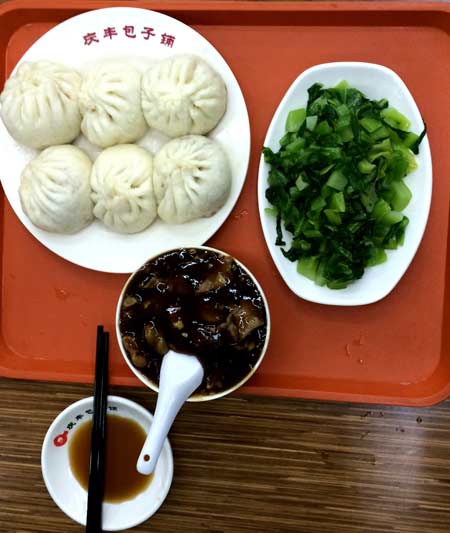 The president's set meal at Qing-Feng Steamed Dumpling Shop. Photo provided to China Daily
A bun shop in Beijing had an unexpected visitor and is now enjoying an unexpected windfall in fame and fortune.
Qing-Feng Steamed Dumpling Shop's Yuetan branch was surprised with a visit by Chinese President Xi Jinping in late December.
The president insisted on waiting in line with the rest of the patrons and placed an order for a plate of mustard leaves, a bowl of stewed pork liver soup, and six shallot and pork buns. The bill came up to 21 yuan ($3.47).
News of the VIP visit has drawn crowds to the otherwise quiet bun shop. Xi's order, now dubbed "the president's set meal", has sold record numbers at the eatery.
Qing-Feng was already a popular bun shop in Beijing, known for its signature buns with various fillings, a few cold dishes, congee and traditional Beijing food such as stewed pork liver soup. It is a mid- to low-priced eatery with big crowds at breakfast, but also good for a quick lunch or dinner.
Qing-Feng is a member of Beijing Huatian Catering Group, which owns more than 20 restaurant brands such as Hongbinlou, Kaorouji and Kaorouwan.