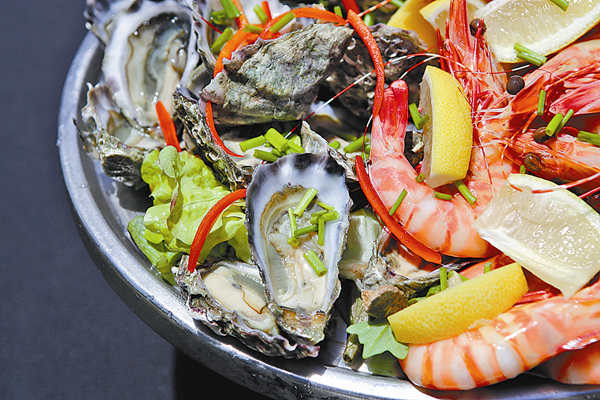 Oysters are one of the iconic delicacies in Australia. [Photo by Ou Shuyi/China Daily]
Some say fresh oysters are like the ocean's candy - they have that briny-sweet taste of seawater and literally melt in your mouth.
Few can resist the temptation of this delicacy from the sea, particularly in Australia, which is blessed with some of the world's best oysters.
Sitting in the Lakeside Cafe, a seafood restaurant located on the banks of the Tweed River on the Gold Coast, we are anxiously waiting for the appetizer, which claims to be the freshest catch of the day from the river just a few meters away from our dining table.
We all burst into a wild exclamation of delight when a platter of a dozen exquisite shellfish finally arrives at our table. Each oyster is submerged in a nice pool of clear liquid on the half shell - the natural juice inside the shell keeps the oyster alive once it's out of the water.
I slide an oyster with its juice into my mouth and bite into the silky, luscious and plump meat. A rich burst of flavors explodes and then lingers in my mouth, first salinity, then sweetness and the fruity finish. My taste buds and sense of smell and imagination are all awakened by this small bite of ocean candy.
"This is the best flavor of Mother Nature - Queensland's sunshine and Tweed River's water have worked together to nurture these culinary pleasures," says Violet Tan, marketing coordinator in China with Tourism and Events Queensland.
The Tweed River snakes its way through lush green rainforest and pours into the Pacific Ocean. The oyster farm is located in one of its branches not far from the river mouth. The nutrient-rich salt water and the smooth bottom, combined with the fluctuation of water, create an ideal environment to raise oysters.
Oysters are appetizers in the true sense of the word. My appetite is greatly stimulated after finishing the first course.
Then comes the main course - mud crabs. In Queensland and New South Wales, mud crabs are favorites of Aussies and tourists alike, Tan tells us. "Having a meal of mud crabs is a must-do, like koala cuddling, for people who travel from other part of the world to Australia."