Year-ender: food review 2013 - A survivor's game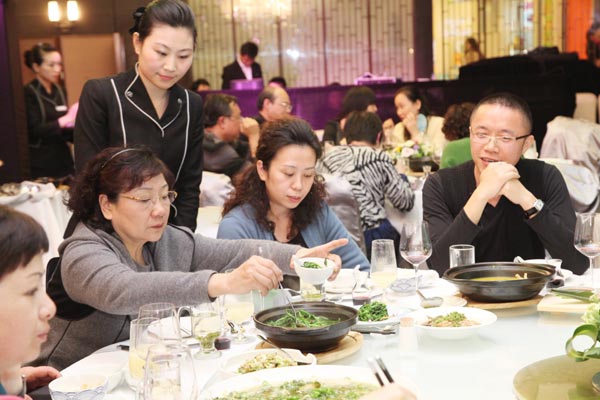 Meizhou Dongpo restaurant wins over customers with quality food at reasonable prices, while many high-end restaurants face decline. Provided to China Daily
Faced with a government austerity campaign and some jitters about the economy, many high-end restaurants in Beijing were challenged to change or die. Ye Jun reports.
The past year has been especially difficult for high-end restaurants in Beijing. Many top Chinese restaurants either closed down or have tried to reinvent themselves for a downscale market. At the same time, some middle and low-end eateries have sustained good business. The closing of Maison Boulud at Qianmen 23 on Dec 8 came as a shock to many gourmets in Beijing. Just three months ago in September, New York-based founder Daniel Boulud himself was in town to celebrate its fifth anniversary. The restaurant had a good reputation and won plenty of media awards for both food and service.
Recently its managing company put up a notice, saying the restaurant lost a total of 245 million yuan ($40 million) by the end of 2012. It has been widely posted on Sina Weibo micro blogs and WeChat. The notice says the reason the restaurant lost money is because costs far exceed income.
Damien Alvarez, general manager of Maison Boulud for the past year, confirms the authenticity of the notice. But he says the restaurant has enjoyed good business in the past year.
"People who came could see it was a busy place," he says.
He says he is still working with the company. "We hope to move to a new location. But nothing is certain yet."
Ignace Lecleir, general manager of the popular Temple Restaurant Beijing, says the closing of Maison Boulud is "not so good", because "it's nice to have friendly neighbors". Lecleir worked as general manager with Maison Boulud 2.5 years ago, before moving on to his current project.
However, Lecleir thinks "things are positive". "The only pressure is to make sure we can satisfy our customers and deliver good service," he says.
Bian Jiang, deputy director of the China Cuisine Association, said in an interview early this year that taxation, rent and labor costs have kept rising, making it increasingly difficult for restaurants to make profits.
Managers of some high-end Chinese restaurants feel it has been a particularly tough year.
"I've been working in the restaurant business for 20 years. It has never been as difficult as this year. I've never made so much effort," says Zhang Guijin, general manager of Jing Ya's Huangsi branch.
Jing Ya, a restaurant known for its Shandong-style seafood buffet, attracted attention in the past year because its target customers included government and military officials. It was among the restaurants hit the hardest after the Chinese government issued policies to curb waste and extravagant spending of public funds.
"March to June were the worst. July and August were a little better," Zhang says. "October was bad again. But November and December have seen a little rise.