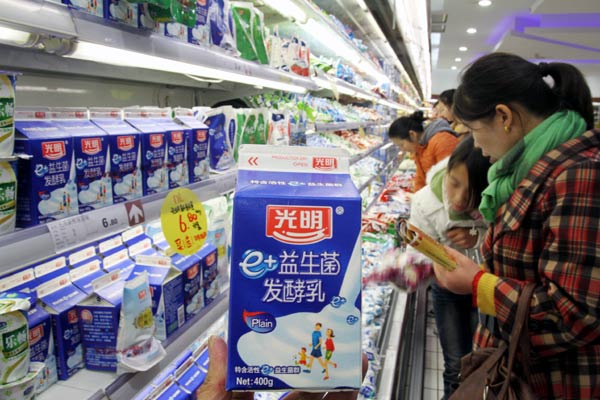 Shoppers choose dairy products at a supermarket in Xuchang, Henan province. Bright Food Group plans to list its newly acquired assets in foreign countries, including Manassen Foods in Australia and cereal maker Weetabix in Britain. [Photo / China Daily]
Shanghai-based Bright Food Group Co Ltd, China's second-largest food producer, is contemplating whether to list all of its newly acquired foreign assets as the company continues to internationalize its businesses and raise brand awareness overseas.
These businesses include Australia's Manassen Foods, British cereal maker Weetabix Ltd and New Zealand's Synlait Milk Ltd, Pan Jianjun, Bright Food's spokesman, told China Daily on Monday.
The listings are held as part of the company's "mid-to-long-term" plans, which translate into three years from now, said Pan, who declined to reveal the detailed time frame or the value of any prospective offer.
"When we acquired those companies, we already had plans to list them overseas," Pan said in a telephone interview. "It is a steady step being taken by the firm."
Pan said listing could take place in either the United States, the United Kingdom or Hong Kong, but not necessarily in the assets' country of origin.
State-backed Bright Food is steered to expand its major businesses - dairy, wines, sugar, branded food and distribution channels - overseas, Vice-President Ge Junjie told China Daily in March. Prioritized destinations are Australia, New Zealand and Europe.
Bright Food has been rolling out an overseas plan to beef up competitiveness and satisfy the growing demand for imported foods as disposable income surges rapidly in the world's most populous country.
Aiming to boost overseas sales by as much as 30 percent of its total in five years, Bright Food has completed several major international buyouts in the past two years, including the deal with Weetabix and French wine merchant Diva Bordeaux.
Bright Food bought 60 percent of Weetabix last year in a deal that valued the firm and its iconic British brand at $1.94 billion, including debt. Net profit has doubled so far this year thanks to lower costs and robust sales in North America, Pan noted.
The State-backed firm also bought Manassen, which supplies Australian retailers with local and international food brands, for $516 million in 2011. It is still in talks with Tnuva Food Industries Ltd, Israel's biggest food manufacturer and distributor.
Company Chairman Wang Zongnan said in October in Shanghai that more acquisitions are expected next year, without elaborating.
Bright Food operates a comprehensive product line that covers modern agriculture, food processing and production and food distribution. The group's total assets were valued at 82 billion yuan ($13.2 billion) and its revenue from primary business reached 75 billion yuan in 2012.
Bright Food now holds a 5.7 percent share of China's 174 billion yuan dairy market, ranking it fourth in the domestic market, according to Euromonitor International.
It accrued a market share of 1.4 percent in terms of packaged foods and 1.6 percent in the ice cream market, said the London-based researcher. Major competitors include domestic counterparts Inner Mongolia Mengniu Dairy (Group) Co Ltd and Inner Mongolia Yili Industrial Group Co Ltd, in addition to foreign businesses such as Nestle SA.
"There is a spontaneous drive for Chinese companies to go beyond borders because international costs for obtaining resources and financing keep dropping," said Qi Xiaozhai, dean of the Shanghai Commercial Economic Research Center.
Companies such as Bright Food are betting on the prospects of distribution channels and established foreign brands to penetrate overseas markets, Qi said.
"The decision to float its overseas assets suggests Bright Food has set a clear goal for its newly purchased businesses. Each unit serves a specific purpose for Bright Food. Listing may help fuel its growth," he said.
When going global, Chinese companies should learn to form a sound relationship with key business middlemen such as law firms, accounting agencies and banks, said Ge from the company.
"They should also fully take into account business risks including debt ratio, political stability and social benefits."
Time for China companies to have brand strategy
Bright outlook for Israel dairy firm acquisition