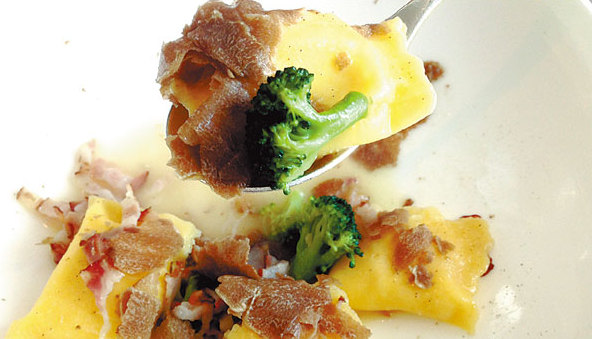 The egg yolk pockets are inspired by Chinese pasta. [Photo by Pauline D. Loh / China Daily]
At first glance, the chef is a departure from the Italian male stereotype. He's more cuddly puppy than smoldering dark-eyed Casanova, and it is not until you taste his food that you are left with no doubt that he's Italian. Very much so.
Eugenio Iraci is the chef de cuisine at Barolo, Ritz-Carlton Beijing, and he's keeping the standards flying with his northern Italian flavors.
His dishes offer a satisfying tour of the best of country, with a little bit city thrown in.
The seasonal menu at Barolo is designed to bolster diners against the cold and arid Beijing winter.
Flavors are full and rustic, such as the braised pork belly with a roasted skin that's laid on a bed of puy lentils. It is comfort food for cold weather, honest tastes that comes from the best meat and earthy lentils. 
Then there is the stewed beef cheek on garlic mashed potatoes simply garnished with a sprig of thyme - rich meat that fills the mouth with juices and a garlic mash that adds to the satisfaction.
But it is the pasta dish that makes diners roll their eyes heavenwards. Not quite a ravioli, the chef says, but pockets more inspired by Chinese pasta. Tender pasta lovingly encases whole egg yolks, and the packets are then poached before being served with bright pieces of broccoli and generous shavings of seasonal truffles. It is a taste sensation, and shows off the sophisticated, if playful, side of the chef.