Whiskey inspired food pairing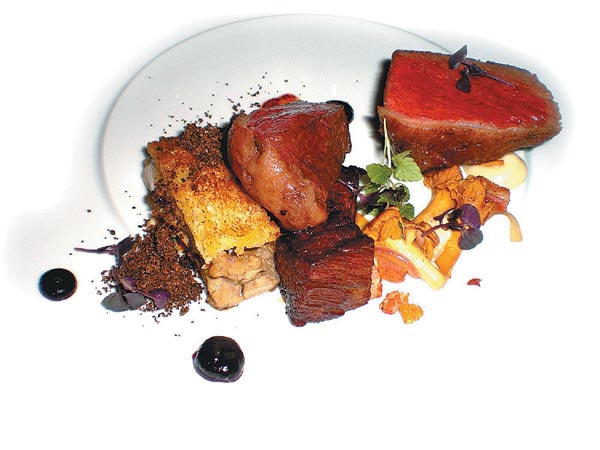 Wagyu beef rump brisket is the main course of Glenlivet Set Dinner at Madam Sixty Ate restaurant in Hong Kong. Photo provided to China Daily
Everyone has heard of wine and food pairings, but at a recent outing, we sampled a whiskey paired with some beautiful food.
The venue was Madame Sixty Ate, the whiskey was the Glenlivet 18, and the pairing included drinking from a variety of Riedel glassware chosen to go with each drink and dish.
The meal begins with a refreshing cocktail called Blood & Sand made with Glenlivet 18, cherry brandy, rosso vermouth, and orange juice.
After cocktails, we were served a starter of smoked tuna, shallot soubise, black garlic, and radish. Fresh and light, the whiskey was served in a Riedel champagne flute with two parts Speyside Glenlivet sparkling water. According to Riedel distributor, Suresh Kanji, 70 percent of perceived flavors come from aroma, and with a champagne flute the aroma of the drink is concentrated by the narrow mouth of the glass. The whiskey hits the tip of the tongue first, and brings an initial sweetness to the mouth. Bubbles from the water act much the same way as those in champagne. Of all the pairings, this was the one that I enjoyed the most.
The next dish was game terrine, duck ham, pistachio, and tangerine tonic made from pigeon, duck, and foie gras. Rich and meaty, this dish was paired with Glenlivet 18 and 1.5 parts water in a Reidel Riesling glass. The sherry notes of the whiskey highlighted similar notes from the terrine which came with a sherry jelly.