Chinese Food Festival kicks off at UN headquarters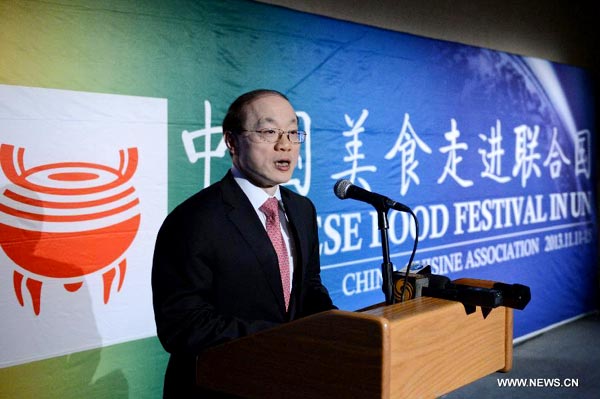 Chinese Permanent Representative to the United Nations Liu Jieyi speaks during the opening of a promotional event for Chinese cuisine at the United Nations headquarters in New York, on Nov 12, 2013.
The Chinese Food Festival opened its doors at the headquarters of the United Nations late Tuesday.
Prominent chefs brought various regional styles of Chinese cuisine to the international stage, with hundreds of UN staff gathered at the opening ceremony for a taste of the country's famed dishes.
"Chinese food culture is an important part of Chinese historical culture and a gem of human culture, which embodies people-orientation, harmony, inclusiveness and other concepts of Chinese culture," said Liu Jieyi, China's permanent representative to the United Nations, at the reception.
The envoy said the week-long event embodies the abundance of Chinese food culture, and will promote friendship and enhance cultural diversity.
Dozens of appetising starters, wholesome main courses and interesting desserts were presented at Tuesday's reception, with the carefully crafted menu showcasing typical Chinese food such as roast duck, spiced smoked fish and Kung Pao chicken.
Also attending the ceremony, UN Secretary-General Ban Ki-moon noted that the Chinese food culture, famous for its long history, variety and abundance, has made a positive contribution to the cultural diversity of the world.
"Confucius said that food is of the highest importance to life," Ban said. "I hope we learn something from the Chinese wisdom and the Chinese food."
Chinese cuisine is widely regarded as representing one of the richest and most diverse culinary heritages in the world. With various flavors and regional specialities, Chinese food is a harmonious integration of color, freshness, redolence, taste, shape and the finest of instruments.