Pigeon, langoustine and cheeks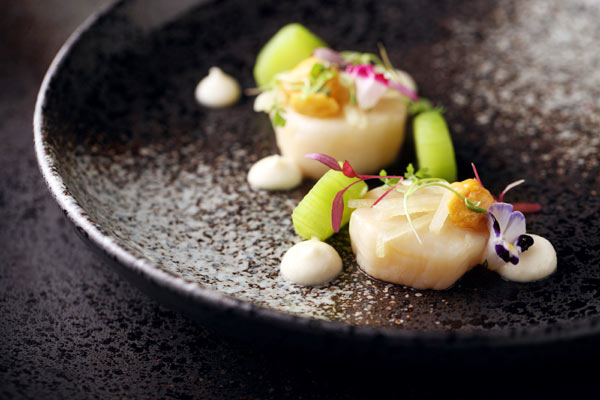 Hang dived scallop ceviche. Photo provided to China Daily
Although the chef is just 30, he has an impressive resume, having worked with Thomas Keller at The French Laundry, the Michelin three-star restaurant in Napa Valley, the United States, where tables need to be booked four months ahead.
Working at the French Laundry for two and a half years was interesting but challenging for Uyanik, because the menu changed daily depending on the produce available.
The chef says he learned "perfectionism, cooking techniques and management skills" with Thomas Keller.
"It was tough but good for young chefs," he says.
After that, Uyanik worked in the kitchens of Gordon Ramsay at Maze for five years, and then at Claridge's, a classic French venue in London. Maze has a Michelin one star. After that he managed the Kee Club in Hong Kong and Shanghai as the group chef.
The chef defines his style as "deformalized fine dining", and his philosophy "cooking without boundaries", where premium ingredients are top priority at all times.
By "deformalized fine dining" he means fine dining food served in a comfortable and relaxed setting.
On the other hand, quoting French Michelin-star chef Alan Ducasse, Uyanik believes "cooking is 60 percent ingredient, 40 percent technique".
"I'm a firm believer of quality produce," says the chef.
Dehydrating, caramelizing, and deconstructing - the menu will not be short of Michelin-starred tricks. But the chef prefers to retain the original taste and even shapes of ingredients. He wants to find the best ingredients in Beijing and has already sourced some good fish and poultry in Beijing, prawns, scallops, lobster and sea urchin.
"Some spices in Beijing are quite interesting," he says. These include chili oil, which goes rather well with cucumber, and Sichuan pepper, which he finds to be a good match with sea salt and fish.